No Comments
A Vampire's Thirst: Flint by A K Michaels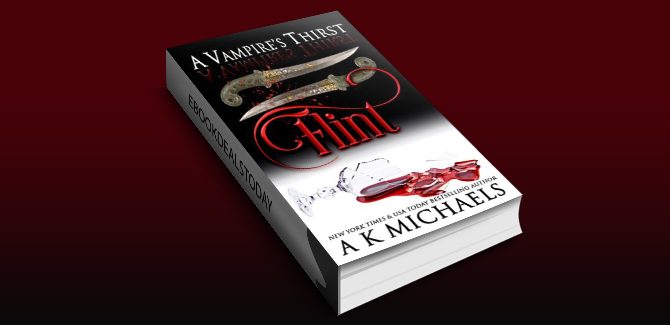 Realtime Price – $3.99
A Vampire's Thirst: Dark, Dangerous and Undeniable!
Flint is an ancient Vampire. He used to work as a bodyguard for his friend, Victor, but when Victor finds his Bloodmate and heads off on a round-the-world honeymoon, Flint goes on his own adventure, setting off to the Highlands of Scotland. Only trouble is…Flint doesn't want to go. That is, until a strange, mysterious, and magical feeling takes over him as he flies over Edinburgh Castle…at the same time as he wants to tear into the throat of the mortal confined within the cabin with him.
Never before has he lost control to his dark side…well not against an innocent. Flint is hard, tough, and more than capable of inflicting pain when he deems it necessary, but losing control: never.
He has the fight of his life on his hands. One he is determined to win. When he goes in search of the secretive nightclub Mystique, he is shocked to his very core by a chance encounter. Kenzie McBride, a damsel in distress needs his help, but the rescue mission ends up with a horde on their tails. Not only is Kenzie beautiful and injured…she's the most elusive and precious of things in the whole damn universe: a Vampire's Bloodmate. His Bloodmate. And he'll fight to the death to keep her safe from anyone who comes after her. Anyone.
The hunt is on, the battle fierce. Only the strong survive a Vampire's Thirst!
Genre: Paranormal Romance
A Vampire's Thirst: Flint by A K Michaels