No Comments
Bound to Lust: 21 Book MEGA Bundle (Excite Spice Boxed Sets) by Selena Kitt + More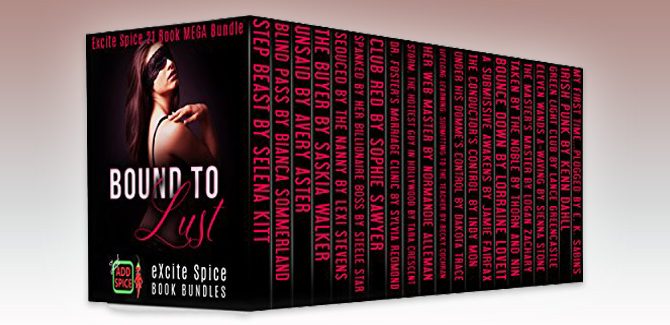 Realtime Pricing:Processing (1)

They were bound to lust… This 21 BOOK Excite Spice MEGA Bundle is packed full of masterful doms and shameless submissives whose desires run hot, deep, and hungry for a flavor that is far from vanilla. These bad boy, assertive alpha doms are determined to get exactly what they want—and they know just what their submissives need.
Twenty-one of the genre's hottest authors will bring you to your knees with over half a million words of kink, doling out so much pleasure it hurts in this BDSM-themed boxed set. Inside this bundle, you will find unforgettable doms you will long to call "master," mysterious alpha males who will both hypnotize and transform you.
Are you ready to surrender?
This EXCITE SPICE bundle is on sale for a LIMITED TIME.
K!NDLE UNLIMITED MEMBERS – DOWNLOAD THIS BOOK FREE!

FEATURING
Step Beast – Selena Kitt
Blind Pass – Bianca Sommerland
Unsaid – Avery Aster
The Buyer – Saskia Walker
Seduced By The Nanny – Lexi Stevens
Spanked By Her Billionaire Boss – Steele Star
Club Red – Sophie Sawyer
Dr. Foster's Marriage Clinic – Sylvia Redmond
Storm: The Hottest Guy in Hollywood – Tara Crescent
Her Web Master – Normandie Alleman
Lifelong Learning: Submitting to the Teacher – Becky Cochran
Under His Domme's Control – Dakota Trace
The Conductor's Control – Indy Mon
A Submissive Awakens – Jamie Fairfax
Bounce Down – Lorraine Loveit
Taken by the Noble – Thorn and Nin
The Master's Master – Logan Zachary
Eleven Wands a-Waving – Sienna Stone
Green Light Club – Lance Greencastle
Irish Punk – Kenn Dahll
My First Time…Plugged – E. K. Sabins
Genre: BDSM, Romance