No Comments
$0.99 "Shifter Romance Boxed Set (11 Book Bundle)" by Multiple Authors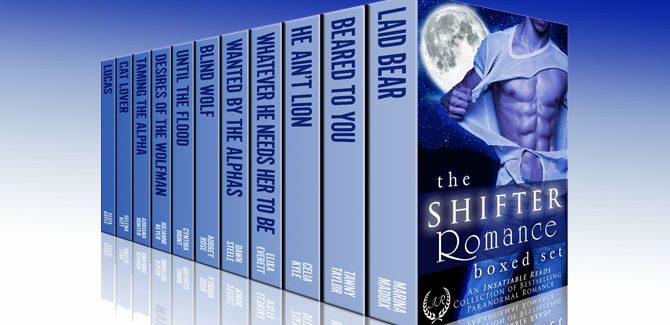 Ebook Deal of the Day:

$0.99 "Shifter Romance Boxed Set (11 Book Bundle)" by Selena Kitt, Marina Maddix, Tawny Taylor, Eliza Gayle, Adriana Hunter
Genre: Paranormal Romance
LAID BEAR by Marina Maddix: Curvy Bethany can't believe her luck when her devastatingly hot neighbor Max falls for her. But his secret threatens her future…and her life.
BEARED TO YOU by Tawny Taylor: Curvy city girl Abby is thrilled when a hot, naked man shows up on her cabin's front doorstep and stokes a blaze or two, in the fireplace and in her body…until he turns into a bear…and the two of them are forced to run for their lives through the untamed Alaskan wilderness.
HE AIN'T LION by Celia Kyle: Life sucks… And then you get turned into a werelion… And then have lotsa awesome sex…
WHATEVER HE NEEDS HER TO BE by Elixa Everett: What would you do to win over the man of your dreams? For shapeshifter Selena, it's simply a matter of being whatever he needs her to be.
WANTED BY THE ALPHAS by Dawn Steele: New girl in a new town, Shannon, meets two extremely gorgeous and extremely different men who are vying for her attention — but who happen to be a witch and an alpha werewolf at war with each other.
BLIND WOLF by Aubrey Rose: A blind werewolf leading a pack of stragglers finally finds his one true mate — then realizes she's human…
UNTIL THE FLOOD by Cynthia Brint: Fiona believes the love of her life died years ago, so how will she handle his return…and the fact that he's no longer human?
DESIRES OF THE WOLFMAN by Julianne Reyer: A newlywed couple faces their deepest fantasies and fears as they're thrust from their little rural community into a world of werewolf turmoil and mystery.
CAT LOVER (Book 1) by Selena Kitt: Sebastian and Katie are having relationship issues when her ex shows up to complicate things, but that's the least of their worries, because Katie is finally changing–into something not quite human.
BETTER MATE THAN NEVER by Adriana Hunter: Caleb Stone has wanted Paige for as long as he can remember but there's a reason he's always kept his distance. Wolves, more specifically, Lycan's, can't mate with humans. Worse, he can sense her incredibly intense hunger for him but he knows that he can never give her what she wants, or needs.But when Paige is kidnapped by a powerful enemy Caleb has no choice but to go after her even if it means revealing his true identity…even if means risking it all.
LUCAS by Eliza Gayle: An uneasy alliance, a mating call that won't be denied, rituals that must be honored, and unrelenting enemies who will stop at nothing to get what they want. In the end, there's really only one choice… for Lucas.