No Comments
Ballsy by Teagan Kade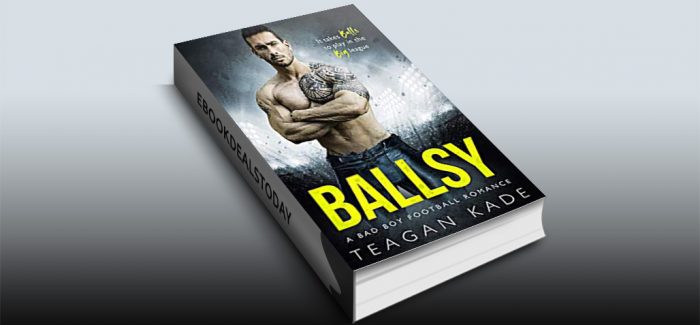 Realtime Price – $3.99
First rule: Don't fall for your best friend's sister.
Second rule: Screw the first.
A bad boy who knits in his spare time? Believe it.
No one's going to question my masculinity.
Not when I'm throwing down on the field and generally kicking goals at life.
Or I was before tasting the sweet, sassy mouth of Joey Torrence.
She's the team nutritionist, but the only meal I want is between those creamy thighs of hers.
I can't stop thinking of her, and I won't.
Not until I have her again—long, deep and begging for more of my special yardage.
The problem? Her brother's not just my best friend, he's my teammate.
He's got his own insta-drama going on.
Add that to the whole sneaking-behind-his-back thing and prepare for a family cluster-bomb of epic proportions.
Nothing's going to stop me, but how do you give into the forbidden when it might mean losing it all?
Gear up and get ready to play dirty in this HOT, steamy new sports romance. Ballsy is a full length, standalone bad boy romance where the forbidden fruit really is sweeter. There's no cheating, no cliff-hangers and a guaranteed HEA. You don't want to miss this one!
Genre: Romance
Ballsy by Teagan Kade