No Comments
Auntie Clem's Bakery 1-3 by P.D. Workman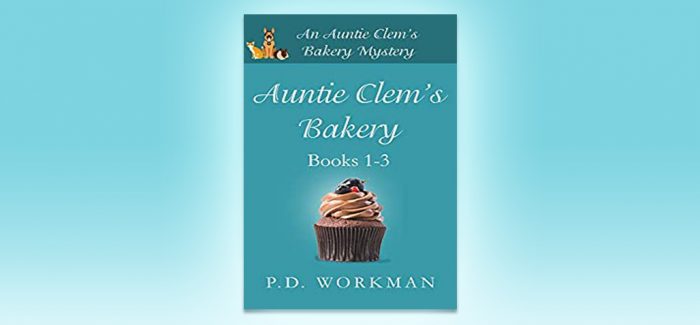 Realtime Price – $9.99
From USA Today Bestselling Author, P.D. Workman!
Sink your teeth into these sweet mysteries!
Erin Price is a baker, not a sleuth. It's really not her fault that mysteries keep landing in her lap while she's trying to run Auntie Clem's Bakery and make a living from baking gluten-free and specialty goods.
This ebook includes the first three books in this series:
1. Gluten-Free Murder
2. Dairy-Free Death
3. Allergen-Free Assignation
Gluten-Free Murder
The grand opening of Auntie Clem's Bakery is marred by just one thing, the death of Erin's business rival, Angela Plaint. It appears that Angela was poisoned by one of Erin's cupcakes, making her a prime suspect.
Dairy-Free Death
The peaceful life that Erin had pictured in Bald Eagle Falls remains elusive as her family's past. And then her own past comes knocking on her door…
Allergen-Free Assignation
Erin is happy to be dabbling in a murder that this time is too old and too cold for her to be considered a suspect. But as Erin begins to unearth the buried secrets of Bald Eagle Falls, she is forced to confront her own family's dark history.
⭐️⭐️⭐️⭐️⭐️ These cozy mysteries by P.D. Workman have more twists and turns than a woodland path! They are well-plotted and the characters are believable. These three books are the beginning of a great series.
Like baking mysteries? Cats, dogs, and other pets? Award-winning and USA Today Bestselling Author P.D. Workman brings readers to small town Bald Eagle Falls for culinary cozy mysteries to be solved by gluten-free baker Erin Price and her friends.
Have your gluten-free cake and eat it too. Dig into this sweet treat now!
Genre: Cozy Mystery, Mystery
Auntie Clem's Bakery 1-3 (Auntie Clem's Bakery Sets, Book 1) by P.D. Workman