No Comments
Alpha Passions by Anna Lowe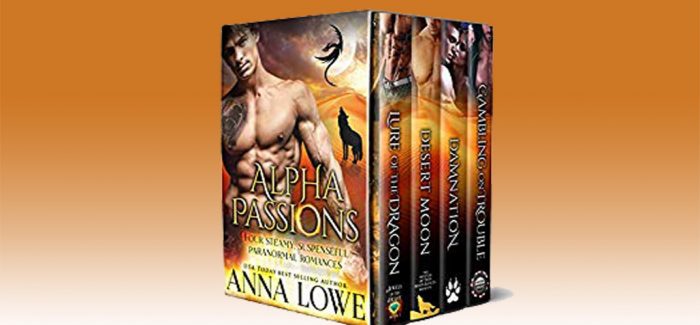 Realtime Price – $7.99
Powerful dragons. Burly bears. Passionate wolves. Sizzling romance & suspense guaranteed!
Discover your next hot alpha hero in this unforgettable volume of steamy & suspenseful paranormal romances! Each story puts the "hero" back into "heroine" and introduces a rich story world, from tropical Maui to the shady side of Vegas and the spellbinding scenery of the desert Southwest. Sizzling romance guaranteed!
In Lure of the Dragon, Kai Llewellyn and his band of battle-hardened shapeshifters fight to save a mysterious woman from a ruthless dragon. In Desert Moon, wolf shifter Ty Hawthorne puts duty above everything – but not even this pack alpha can resist the call of his mate. In Damnation, burly bear shifters clash with a pair of she-wolves in an action-packed tale of second chance romance. And in Gambling on Trouble, a diamond thief falls for a bear shifter security chief. What could possibly go wrong?
Each of these stories is Book 1 in a different best-selling series. Two are RONE AWARD WINNERS/FINALISTS! What better way to decide which great series to sink your teeth into next? Grab this incredible box set deal today!
Genre: Paranormal Romance
Alpha Passions: Four Steamy, Suspenseful Paranormal Romances by Anna Lowe