No Comments
$4.99 "Death, Wish." by Joseph Steffen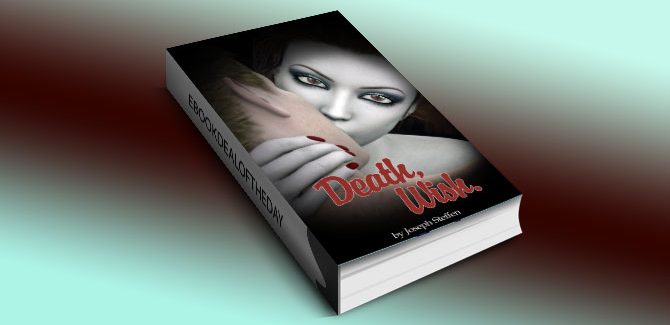 Ebook Deal of the Day: $4.99 "Death, Wish." by Joseph Steffen
Genre: Paranormal Fiction
One tragic event – the murder of his beloved wife, Charlotte – changed everything for John. Everything. He is devastated with grief, a selfish grief, the kind that asks "What will I do without her?" Well, for John that question is not to be asked for long, as Charlotte returns to him…dead. Not a Vampire, not a Zombie…just dead at age 27. All thanks to a wish they'd shared the night of their engagement five short years ago.
And it is at that point that this creepy, sad and sexy rollercoaster ride really begins…
After Charlotte convinces him it is, indeed her, John takes her walking, talking, corpse back as his wife. At first, their love blossoms anew, they become lovers and do all the things most young marrieds do – but with sometimes humorous, sometimes gruesome twists. As for any issues they may have? Well considering Charlotte's dead and all, they are relatively minor. But, then…
There is the blooming of a number of other nasty entanglements – in particular one shared by the two of them and another perpetrated by Charlotte, alone, in all of her pure, deadly innocence that serve to horrify John into wanting and needing to get the Hell out. Ah the differences between being alive versus being dead!
Til Death do us part? John should be so lucky.