No Comments
$3.99 "War of Gods Box Set" by Lizzy Ford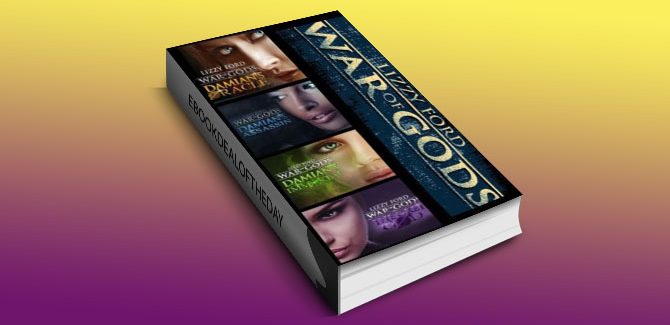 Ebook Deal of the Day: $3.99 "War of Gods Box Set" by Lizzy Ford
Genre: Paranormal Romance
"Damian's Oracle"
Inspired by Slavic mythology, Damian's Oracle is the entree into the ongoing battle between good and evil over the fate of humanity. The White God, Damian, and his Guardians protect the world from the Black God and his monsters while rescuing Naturals – humans with extraordinary paranormal gifts – from the Black God, who would kill or convert them.
Caught in the middle is cool-headed Sofia, a Natural whose gift will tip the scales in the war. Sofia begins her transformation from human into oracle, the first in thousands of years. Damian rescues her from the Black God in time to complete a ceremony that will bind her to him for eternity. Sofia struggles with her new world and her role as an oracle and Damian's mate while haunted by a mysterious man from Damian's past who's supposed to be dead. Unbeknownst to her, her link to the dead man may be all that saves Damian, his Guardians, and the fate of humanity.
While he wants nothing more than for the petite beauty to take her place at his side like the oracles of legend did his White God forefathers, Damian can't quite rationalize having to win her over instead of command her. Further complicating his life is the sobering realization that there are spies in his organization who are helping the Black God take out his Guardians. Damian must help Sofia reach her potential fast, especially when a threat from his past returns.
"Damian's Assassin"
With the White God in Europe, Dustin is left alone in Miami to protect the Grey God, a man-god struggling with his identity, and the White God's mate. One of the Black God's vamps in Miami suddenly goes rogue and starts killing humans by the dozen. Dustin initially doesn't think much of the ruthless, human-hating thug, Talon, until it becomes clear that the vamp is receiving help from otherworldly beings whose intentions are nothing short of destroying humanity. To make matters even worse, Dustin's begun to dream of his dead sister, who tells him he'll be seeing her soon.
Dustin rescues Bianca and her troubled brother, a Natural whose mysterious talent makes him vital to Talon's plans. Bianca, a woman as sunny and sweet as Dustin is hard and cold, has the rare Natural gift of healing. She can bring the recent dead back to life or turn a vamp back into a human. She can even reach Dustin's heart, which he locked away long again after his sister's death. Convinced he'll be killed soon, Dustin won't risk his heart or Bianca's, despite their mutual attraction, and Bianca discovers even her incredible talent can't save both the men she loves.
"Damian's Immortal"
The White God's most trusted friend, Jule, has his powers stripped by the Watchers. They give him an impossible mission: find the mysterious Magician and kill her, before she reopens the gateway between the realms. Jule quickly discovers the beautiful Magician is not what the Watchers claim. Afraid of her own powers, the Magician has lived a sheltered life, a near-prisoner of someone determined to use her magic to destroy the human world. The Magician, Yully, must choose between her loyalty to the man she views as her father and Jule, the man whose touch brings her hope and happiness after years of fear.
Meanwhile, the young Black God is growing into his powers, with the assistance of a being that shouldn't exist, and whose presence threatens to alter the balance of power between Good and Evil.
"The Grey God"
The Grey God Darian can't quite shake off the dark streak remaining after the thousands of years he spent enslaved by evil – or the memory of how the only woman he loved betrayed him. When given a second chance at life and love, Darian struggles to leave his past behind, before it destroys his future. The warrior destined to become his mate, Jenn, is accustomed to fighting – and defeating – dangerous men. But Darian isn't just another powerful man, he's immune to her mind reading talent and completely unpredictable, a trait sure to get anyone near him killed. Jenn feels trapped between the wild god and his enemies, who learn her fate long before Darian does. Rather than embrace her destiny at his side, Jenn defies it in an attempt to protect him and her own heart.