No Comments
Billionaire Bear Shifters by Brittany White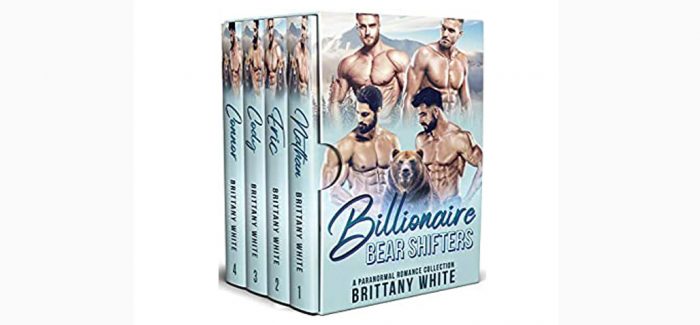 Realtime Price – $0.99
Welcome to the Black Bear Lake Lodge deep in Colorado's Rocky Mountains♥
There's just one rule: Don't get involved with the guests!
Immerse yourself into the world of alpha protectors, shifters, and steamy adventure. This series will reveal secrets, tug at your heartstrings, and leave you wanting so…much…more!
"Love was never meant to come easy for the Strauss Bear Shifter Brothers."
Nathan
"The most gruff, strong and silent brother"
Billionaire bear shifter, Nathan Strauss, wants nothing more than to claim his stake on Alanna.
She's a beautiful new guest at the Black Bear Lake Lodge. The woman who has forced Nathan to break the one rule he was asked to follow as a Strauss brother, but Nathan doesn't care. Not when Alanna is his mate. She's all he thinks about, and she needs his help.
Alanna is in possession of another man. The brutal monster has forced her into joining his harem of wives. Alanna had no choice but to obey his orders. He's holding her brother hostage. Nathan is a ray of light for her. The man who's so hot that she could melt into his arms. But love isn't supposed to come easy for them.
Can Nathan protect Alanna and free her from her captor?
Eric
"The most easy going one who effortlessly makes everyone happy"
Billionaire bear shifter, Eric Strauss, always loved one woman and her betrayal still stings him.
When the love of Eric Strauss's life shows up at The Black Bear Lake Lodge, Eric figures things will be awkward at best. They might have been the closest of friends once, soul mates who were so connected they could sometimes read each other's minds. But that was a long time ago. Eric's not counting on anything more than some reminiscing and a lot of disappointment before Lydia runs off one more time.
But Lydia has a darker reason for showing up in Eric's life again. She's had the same foreboding nightmare about Eric over and over. Eric's in danger. She's sure of it…she just doesn't know where the danger is coming from.
What they had… was real. What he sees in her eyes… is real. Her return will either heal his heart or lead to his ultimate destruction. Can Lydia stop the danger before it's too late?
Cody
"Little bit angry but always loyal"
Billionaire bear shifter, Cody Strauss, can't help but be attracted to one of the maids at the Black Bear Lake Lodge.
Jessie's sexy curves are a perfect distraction for him. But she's much more than just a gorgeous woman and his employee. Cody is tempted to believe that she might be his fated mate.
Jessie, on the other hand, does everything to avoid him. It's hard for her to ignore him, to not let him touch her in ways that she can't stop dreaming about. But there's something at stake. A secret. And Jessie would do anything to protect it… to protect them. She never meant to become a single mother to six bear shifter cubs, but her heart couldn't handle their bad treatment.
Cody will discover her secret sooner or later, and when he does… will he be able to protect her and accept her family as his own?
Connor
"Alpha brother who's in charge of everything"

Billionaire bear shifter, Connor Strauss has fallen for the one woman he shouldn't crave. His natural enemy, and a woman with a deep secret.
Every one of Connor's brothers have found their mates. He's happy for them but wants the same for himself. As a bear shifter of Colorado, Connor has always been a stickler for the rules, but when it comes to Brooke, he seems to forget about everything else.
He isn't supposed to find out her secret. One that makes them enemies. The conflict might be too much for Brooke to handle and gaining control of her heart would be even harder. Especially since her supposed enemy is the one person who genuinely cares about her. Maybe, even loves her. But will she be able to love him back?
Note: Adults Only
Genre: New Adult, Paranormal Romance
Billionaire Bear Shifters: A Paranormal Romance Complete Series Boxset by Brittany White