No Comments
$1.99 "Keegan's Chronicles" by Julia Crane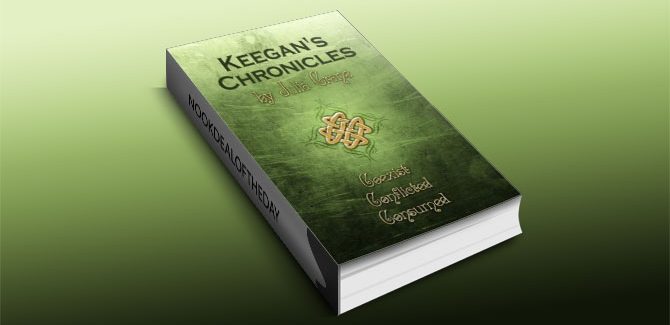 Ebook Deal of the Day: $1.99 "Keegan's Chronicles" by Julia Crane
Genre: YA, Family Saga, Fantasy, Romance
"Coexist"
In Elfin society mates are predetermined, but are not allowed to meet until they turn 18. Keegan and Rourk are preordained partners. Keegan was told Rourk's name as a child. When she thinks of him he is drawn to her and watches her from a distance. A battle brews in the background as an ancient prophecy unfolds. Can they avoid extinction?
"Conflicted"
In the Elfin world, magic and destiny determine who will be together. "Chosen" pairs are fated to meet at the age of 18.
Keegan, however, is an anomaly. Having fallen in the battle between the Light and the Dark, she is only alive now due to Black Magic, and her bond with her Chosen is broken. She cannot remember Rourk at all.
For the first time, she feels like a normal teenager. She is dating Donald, her long-time crush, and everything seems perfect. But Rourk still feels their bond, and despairs for the woman he was always meant to love.
Keegan's best friend Anna is determined to find a way to use her powers to return Keegan's bond, no matter what it takes. The question is does Keegan even want it?
"Consumed"
Keegan has dealt with a lot over the last two years: Death, black magic and the loss of her bond to her chosen mate. But on her eighteenth birthday, the bond with Rourk returns.
Rourk longs to be by her side. Though he knows the distance between them causes Keegan physical pain, he wants to give her the time she needs.
Now, Keegan faces her hardest decision. Tradition requires elves marry at eighteen. If she accepts the path laid out for her, she will be spared a lifetime of physical and emotional pain. But will that life ever really be her own?