No Comments
$3.99 "Deadly Intentions" by David Temrick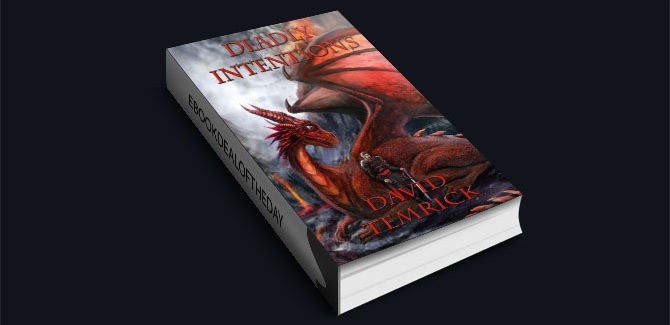 Ebook Deal of the Day: $3.99 "Deadly Intentions" by David Temrick
Genre: Fantasy
War has broken out in the Seven Kingdoms. From small conflicts between long time friends, to open siege warfare in the country Tristan Vallius was entrusted with; Terum. A bold mercenary leader has seized control of the capital of Terum and while Tristan wages war to free his country from the shackles of oppression, a deeper conspiracy is taking form.
Meanwhile, now that dragon magic has returned, the elder dragons struggle to bring balance to the world. Bethis, a powerful youngling dragon has had her growth artificially accelerated in order to provide Terum with a patron to offset the ecological damage that continues to ravage that country. Even as she comes into her power, she and Tristan face a growing unrest to the north.
The remnants of the Draconis' Bane cult have found a new and much more dangerous leader who is more than willing to make alliances with the most lethal and murderous races known to the world of Amesdia. Time is in short supply and the fate of thousands rest on the shoulders of an inexperienced dragon and a deeply troubled Prince.