No Comments
Free Three Romance Kindle Books this Monday!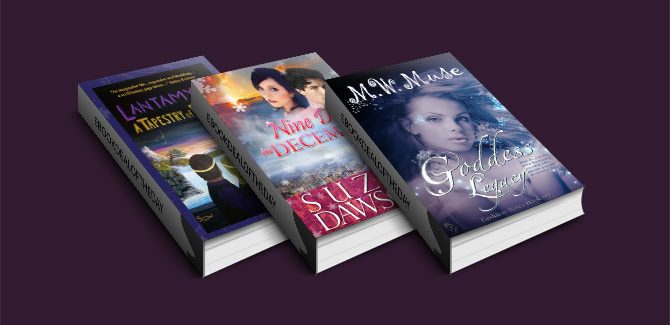 Free "Lantamyra: A Tapestry of Fantasy" by Susan Waterwyk
Genre: Fantasy Romance
For the chance to journey to another world, Tylya Lansing is willing to give up everything on Earth, including her lover, Josh Hamilton. All she has to do is find her grandmother's crystal scepter, lost for decades in a rugged Sierra Nevada canyon. Since she was a child, she has heard stories of Lantamyra, a world where magic is created with myra crystals, where mind expansion is granted crystal powers, where keepers and wards respect and protect life. Once the scepter is found, she journeys to this earth-like world that is recovering from an ice age. Areas of the planet have been terra-formed by the mysterious Keepers of Akosh to provide sanctuary for the endangered species of two other worlds—humans from Earth and dragons from Lanluong. She learns that Earth is about to experience catastrophic changes from earthquakes and volcanic eruptions, and Lantamyra may provide the only hope for humankind to survive. Tylya is determined to learn the ancient Akoshic Secrets of the Ways, a mind-expanding process necessary to control the power of myra crystals and to become a keeper of dragons.
Excerpt from Chapter Five: Annoyed that her warning was shrugged off so easily, the queen brought her head close to Tylya. "You will pay for your training with your labor, but you will pay a higher price to become a keeper. It will change you in ways you cannot imagine…"
Lantamyra is an intriguing story with plenty of drama, humor and memorable characters and exciting scenes. Written for mature adults more than young adults, Lantamyra is not formula fantasy, no stereotypical evil villains.
Free "Nine Days in December" by Suzie Dawson (
Genre: Romance
Lacey's life is falling apart in the lead up to Christmas. She loses her job and her lover and ends up facing assault charges. That's when she meets a handsome cop called Jansen.
A fun and light romantic short story perfect for the holiday season.
Free "Goddess Legacy: Goddess Series Book 1" by M.W. Muse (
Genre: Young Adult, Fantasy Romance
Legacy Kore is an average seventeen year old with your basic insane crush on the hottest guy in school… rather Adin Shepard was the hottest guy in school before he graduated a couple of weeks ago. Now it's summer vacation and she's not sure when she'll get to see him again. Until he shows up at her surprise seventeenth birthday party. Cue saliva glands–it's time to drool.
But her giddiness is cut short when her guardian delivers an emotional blow, telling Legacy her mother hadn't died when she was baby, but that she'd left for Legacy's protection all those years ago. After the initial shock, she expects some story about how her mother was in the Witness Protection Program or something else just as crazy, but when she's told that her mother is a Greek Goddess and that Legacy is changing into one too, she thinks her guardian needs a trip to a mental hospital. Legacy a goddess? Um, yeah. Right. And her BFF is the Easter Bunny.
While trying to make sense out of something that was impossible to believe, Adin asks Legacy out on a date. She is thrilled that her fantasy might become a reality, but when she meets the new guy in town, River, she discovers everything isn't always as it seems, and the legacy she wants just might not be the legacy she is destined to have.