No Comments
Three Free Fantasy/Romance Kindle Books this Tuesday!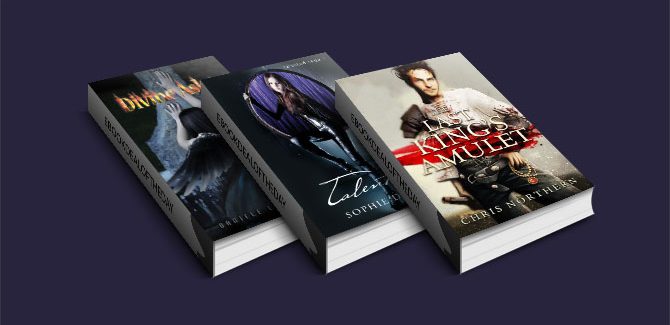 "Divine Ashes (Imprinted Souls Series)" by Daniele Lanzarotta
[/lightbox]
Amazon
[/one_third_last]
"Talented" by Sophie Davis
Genre: YA Paranormal/Dystopian Romance
When Talia Lyons was just a child, her parents were murdered before her eyes. Offered a choice between accepting their fate and exacting revenge, Talia trains to become one of the country's deadliest assassins in order to kill the man responsible for their deaths: Ian Crane. Luckily, Talia was born with a gift- the ability to read and influence the minds of others. At sixteen, Talia is poised to graduate from the McDonough School for the Talented, where she learned to control her abilities. Now there is only one obstacle standing between her and the retribution she craves… Talia herself.
Her greatest asset may also be her undoing; while a formidable weapon in the field, Talia's talents prevent her from both shutting off the mental connection she shares with her questionable boyfriend and blocking out the thoughts of a beguiling fellow recruit. But Talia can't afford to have the feelings and distractions of a normal teenage girl, when her life is far from normal.
She must regain the single-minded determination that has brought her this far, or it may cost Talia her life when she finally faces Crane. And even after being molded in to a weapon of war, she'll still have to find the strength it takes to pull the trigger.
If James Bond and Sookie Stackhouse had a love child with a yearning for vengeance, her story would be TALENTED: an adventure about powerful teenagers who aren't afraid to embrace their fears and fight for what they believe in.
"The Last King's Amulet (The Price Of Freedom)" by Chris Northern
Genre: Scifi & Fantasy, Epic
My name is Sumto, and everyone thinks I am a gambling, lazy, good-for-nothing drunk. Frankly, I think they have a point. Right now I may have to join the army and fight in a war I am frankly too corpulent to cope with.
Still, it looks like being a small, short war. So that's got to be as bad as things get. Am I right?
Trained in his youth for war and politics, Sumto is interested in neither. As the son of a Patron, he should gather clients, acquire wealth, learn magic, husband a political power base and take his place amongst the Assembly of Patrons, the rulers of the city. Sumto would rather gather friends, acquire books, learn history, husband a hangover and take his place at the gambling tables. That is not going to be an option for much longer.
Unknown to Sumto, everything is about to change. There is a war in the north and Sumto is about to become a very unwilling participant.