No Comments
$0.99 "Boxed Set: My Alpha Billionaire, A New Adult romance" by Tawny Taylor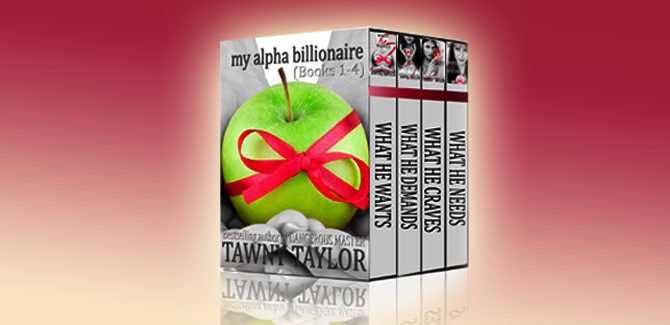 Ebook Deal of the Day:
$0.99 "Boxed Set: My Alpha Billionaire, A New Adult romance"
by Tawny Taylor
Genre: New Adult, Romance Anthologies
This ebook contains:
Book 1: What He Wants
Book 2: What He Demands
Book 3: What He Craves
Book 4: What He Needs
Billionaire Shane Trant is used to getting what he wants. What he can't buy, he takes. When he sees Bristol Deatrich for the first time in over ten years, he knows he wants her. But there's a problem. Only complete possession of her mind and body will satisfy him. He's not sure the sweet little Bristol is ready for his brand of extreme carnal play.
But that's not going to stop him from trying. After all, he learned a long time ago, nobody wins if they don't take risks. If this risk pays off, they'll both win.