No Comments
Three Free Steampunk Scifi, Mystery, Ya, Adventure Kindle books!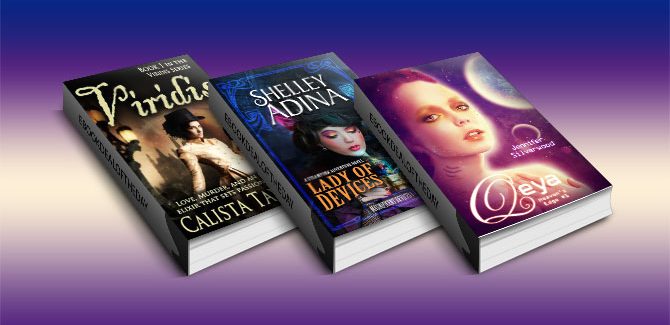 "Viridis (The Viridis Series)" by Calista Taylor
Genre: Steampunk, Romance & Mystery
In steampunk Victorian London, where airships dot the sky and tinkerings abound, Lady Phoebe Hughes develops an herbal elixir, Viridis, unlike any other. London's elite flock to her club to experience the euphoria and heightened senses the drink brings, an orgasm brought on by a single kiss. But when Lord Hawthorne is murdered after leaving her club, Phoebe is shocked to find that not only was he working for the Special Services to infiltrate the Cause, a movement fighting for the city's poor, he was also in possession of her secret formulation for Viridis.
Adding to her difficulties is the unexpected return of Mr. Seth Elliott, a brilliant tinkerer who stole her heart and imagination, only to abandon her when she needed him most. Unable to ignore all that is between them, Phoebe finds herself falling for Seth once again, only to have a powerful rival for her affections wrongly accuse Seth of attempted murder. As Phoebe struggles with a way to free her love, revolution, conspiracy and murder threaten to ruin it all.
*** Author's note: Some scenes are not suitable for those under 18 years of age. ***
"Lady of Devices (Magnificent Devices)" by Shelley Adina
Genre: Steampunk, Adventure Novel
Book One of the Magnificent Devices series, a novel of 54,000 words.
London, 1889. Victoria is Queen. Charles Darwin's son is Prime Minister. And steam is the power that runs the world.
At 17, Claire Trevelyan, daughter of Viscount St. Ives, was expected to do nothing more than pour an elegant cup of tea, sew a fine seam, and catch a rich husband. Unfortunately, Claire's talents lie not in the ballroom, but in the chemistry lab, where things have a regrettable habit of blowing up. When her father gambles the estate on the combustion engine and loses, Claire finds herself down and out on the mean streets of London. But being a young woman of resources and intellect, she turns fortune on its head. It's not long before a new leader rises in the underworld, known only as the Lady of Devices.
When she meets Andrew Malvern, a member of the Royal Society of Engineers, she realizes her talents may encompass more than the invention of explosive devices. They may help her realize her dreams and his . . . if they can both stay alive long enough to see that sometimes the closest friendships can trigger the greatest betrayals . . .
"Qeya (Heaven's Edge)" by Jennifer Silverwood
Genre: Steampunk, Young Adult, Scifi
Qeya has spent her life set to drift on heaven's edge. Being Royal means more than being groomed to rule her home planet. She may only be fifteen, but she knows how to wield a scythe blade and suck the life out of her enemy, literally. The fact that her whole life has already been planned out for her, including the person she will marry, has never occurred to bother her.
Until her ship is attacked and nearly everyone on board is murdered. If she hadn't run into the filthy miner who saved her life, Second Deck might never have jettisoned into the atmosphere of the hostile world her people were exploring.
Now, the Royal children have become the backwater scions of the universe, and the miner who saved her is the only thing standing between them and the hungry beasts hunting them.
Forced to lead before she is ready, Qeya must find a way to put aside ancient prejudices so they can all survive. Old enemies must form new alliances if they are to last the night. For no one knows the secrets of the new world and only a few can survive the living nightmares at heavens edge.