No Comments
$0.99 "Blood & Dreams Sons of Navarus Box Set" by Gabrielle Bisset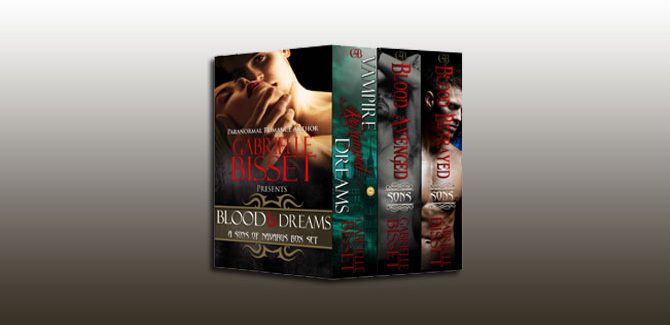 Buy from Amazon USBuy from Barnes&Noble
Ebook Deal of the Day: $0.99 "Blood & Dreams Sons of Navarus Box Set" by Gabrielle Bisset
Genre: Paranormal Romnace
A special box set of the prequel and the first two books of the dark urban fantasy/paranormal romance series, the Sons of Navarus, containing Vampire Dreams Revamped, Blood Avenged, and Blood Betrayed, in addition to a preview of the 4th book in the Sons of Navarus series, Blood Prophecy (coming May 14, 2013).
Romantic Times called Blood Avenged, "Dark, mysterious and sometimes violent, this sexy tale uses New Orleans and a taste of voodoo as a backdrop. It will capture your imagination from the first paragraph."
Begin the Sons of Navarus series today, and follow the action, suspense, and romance of each of the Sons of Navarus as they march toward a final showdown with their enemies. See why readers have fallen in love with these heroes and their stories. And don't miss Blood Spirit, the third book in the series, available now! For lovers of urban fantasy and paranormal romance alike!
Find all Gabrielle Bisset's books for Kindle:
Vampire Dreams Revamped (A Sons of Navarus Prequel)
Blood Avenged (Sons of Navarus #1)
Blood Betrayed (Sons of Navarus #2)
Longing (A Sons of Navarus Short Story)
Blood Spirit (Sons of Navarus #3)
The Deepest Cut (A Sons of Navarus Short Story)
Blood Prophecy (Sons of Navarus #4) COMING MAY 2013
Stolen Destiny
Destiny Redeemed
Love's Master
Masquerade
The Victorian Erotic Romance Trilogy