No Comments
From the Shadows: The Complete Series – Separate Paths & Convergence by KB Shaw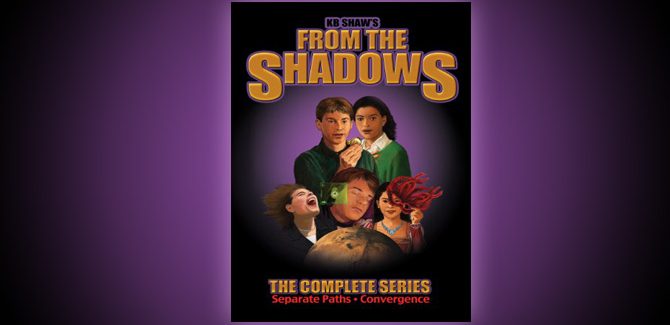 Realtime Pricing:$3.99

An exciting science fiction adventure for readers 12 and up. Adults: Share your love of science fiction with your child or grandchild. Young readers: share it with your parents, grandparents, friends, and teachers.
In the near future…
"There is peace in the world and civility reigns. It's like our idealistic misconception of the 1950s has become real." –Hector Garza, President of the United States
GundTech is a giant international corporation based in Oslo, Norway. Its success is built upon the work of a wunderkind who created the multiCom computer, with an Artificial Intelligence (AI) personality at its core. Under the pretext of protecting the privacy of the young genius, the corporation has never divulged his or her identity.
MultiComs are pervasive throughout society. They're at work, in schools, and in homes. It has become tradition that users name their multiComs. Personal AIs often adopt the surname of their primary user. A peculiarity of the multiCom AI is that it will only respond if user requests contain a 'please' and are acknowledged with a 'thank you.' Even presidents and prime ministers must be polite to their multiComs. Some sociologists claim that the basic decency requirements have contributed to civility in contemporary society.
Now, sixteen years later, the reclusive former child prodigy is about to unleash a technological revolution that could threaten a peaceful world. The Interactive Holographic Transporter (IHT) may render the current computing industry obsolete, instantly shaking the world economy to its core. IHT technology may also be physically dangerous and pose a threat to personal privacy.
When GundTech introduces the IHT, they also announce the formation of an IHT academy that will allow select students from around the world to take part in a virtual class. These events set two teens on a path that will entwine their lives with those of a young reporter and the former child prodigy.
Cameron Rush and Rosa Costas are best friends, even though they have never met in person. Cameron lives in Troy, a small town in Wisconsin, while Rosa lives on a ranch outside Albuquerque, New Mexico. Unabashed technology geeks, they become friends on the comNet while competing in a contest sponsored by GundTech. They are typical fifteen-year-olds living in their isolated worlds of family, school and friends.
Cameron's schoolmates call him boring. He's an A/B student, second-seat trumpet in the school band, fourth-string halfback, and tenth-man on the basketball team. He is unbelievably meek and takes grief for it from others. He likes a challenge.
At 5′-1″, Rosa Costas is vivacious and petite. She is as outgoing as Cameron is meek. A friend once described her as "a hundred-pound package wrapped in a ton of personality." Rosa is also deceptively tough. Her mantel full of rodeo trophies attests to this fact. On the weekends and during vacations, she works as a cowgirl on a ranch. She is adept at languages and, like Cameron, enjoys solving puzzles and overcoming challenges.
Meagan Fletcher, technology reporter for the World Broadband Network, has never named her multiCom AI. Because she knows the potential dangers technology can pose, she prefers to use her multiCom in manual mode, bypassing the AI altogether. She doesn't trust it–and she trusts GundTech even less. It is a company that seems too good to be true. Meagan is on a mission to expose the mysterious inventor behind GundTech and discover the computer company's true intent.
As Rosa, Cameron, and Meagan race toward their destiny, they are oblivious to the dangers that lie ahead.
Genre: Adventure, Young Adult