No Comments
Willow Bend Romances Box Set (Books 1-5) by Mona Ingram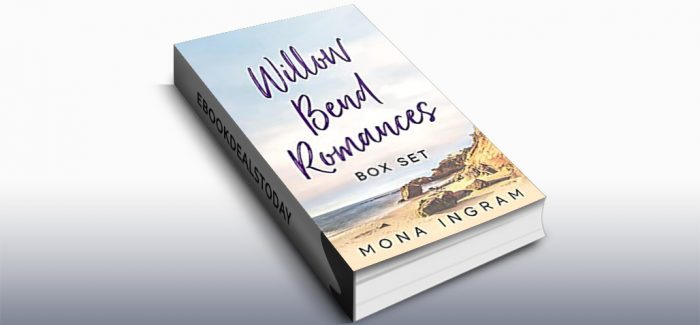 Realtime Price – $7.99
The romances in this 5-book series flow from the original story of Bella, who was sent from her hometown in Georgia as a pregnant teenager. Bella establishes a clothing empire on the West Coast with her partner Rafael. These stories are of the women – some family, some friends – she works with along the way and how their determination to pay back leads each one down a unique path to love.
Full Circle:
Single and pregnant, Bella is given a choice. Give up her child for adoption or leave town. Her decision was never in doubt. Bella moves across the country, settling in Santa Monica. Determined to make a life for herself and her child, she and her new friend Sophia sell children's clothing at the Venice Beach market. When their creative designs are featured on television, their business takes off and they accept an offer from Rafael Vargas to expand their business. Bella fights her attraction to the handsome entrepreneur, but deep in her heart all she really wants is love.
Finding Forever:
The new delivery man is everything Melissa is looking for… but she could do without the girlfriend! Wyatt Johnson delivers more than freight to the Bella store. He's funny, intelligent, and oh, so charming. But there are hidden depths to the man who effortlessly steals her heart and Melissa must decide if he's worth fighting for.

Till I Met You:

Spousal abuse can strip away any woman's confidence. That is, until her children are threatened, and the warrior inside stages a rebellion. Growing up in in a sheltered, loving environment, Val doesn't realize that her husband is manipulating her in the worst possible way. Summoning an inner strength she didn't know she had, she breaks free. But will her traumatic past prevent her from trusting again?
After All:
"I want a divorce." Carla thought she was prepared, but what woman knows how she'll feel when her husband of twenty years says those words? With her life turned upside down, Carla forgets to tell Ethan that she's pregnant. Seeking to make sense of what happened, she confides in the least likely person in town. Jeffrey Lambert turns out to be a good listener, but that's all he can ever be… isn't it?
Only You:
Brady Ferguson has been treading water for the past ten years. A gifted fashion photographer, he was forced to leave the job of a lifetime and has turned his talents toward industrial photography. Withdrawn and suspicious of most people in his orbit, he hesitates to accept an offer from Bella, the famous children's wear firm. Wrongly accused in the past, he can't bear the thought of dredging up those painful memories. Raphael Vargas convinces him to come back to his first love of fashion photography, and when he meets Savannah Mitchell he knows he's made the right decision. A single mother, Savannah has issues of her own. Together, can they learn to overcome the past?
Genre: Romance
Willow Bend Romances Box Set (Books 1-5) by Mona Ingram