No Comments
TORMENT: A Dark Romance! by Aleya Michelle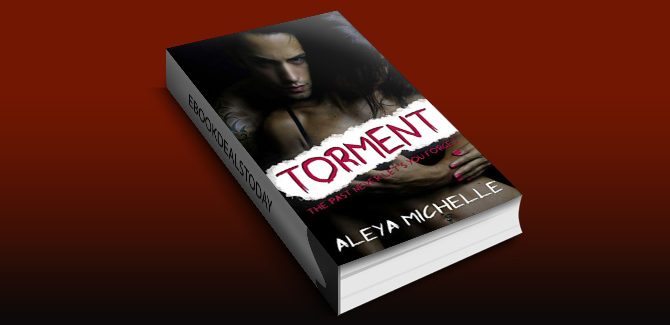 Realtime Price – $0.99
Willow is a survivor, hanging on by a thread, her mother murdered right before her eyes.
Eight years old, not a place or person to call home, Willow did what she did in order to survive the life handed to her.
Alcohol, Drugs, Rehab.
Faced with a straight jacket, a bare cell at ferndale and the prospect of going cold turkey from the vices that have been keeping her alive. Willow is enraged.
She wants her drugs, she wants her freedom.
She wants out of this place.
Hunter is an addict.
Taking one taste, the sole purpose to impress a girl, and heroin ended up taking every bit of self-control he'd ever owned.
Six months later he's hooked and spiraling out of control, breaking and entering, car accidents, endless trouble with the law.
His mother joins forces with the police, signing him into ferndale, a last resort before shipping him off to the army.
Thats where he see her.
Willow.
The girl in the cell.
The dark-haired, blue eyed angel that steals his heart.
This is a dark romance, not for the faint at heart, you've been warned.
Genre: Erotica, Romantic Suspense
TORMENT: A Dark Romance! by Aleya Michelle