No Comments
The Company by Olivia Gaines, Tiana Laveen & Xyla Turner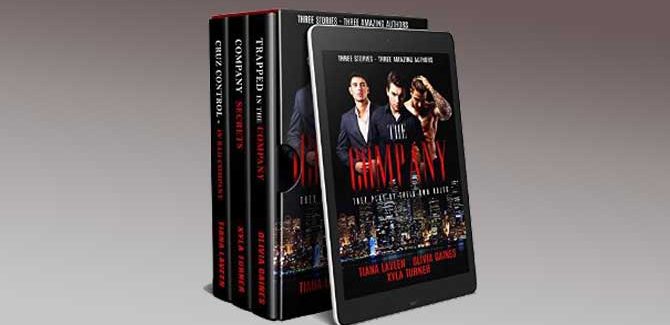 Realtime Pricing:N/A

Truth is stranger than fiction at The Company. Things get especially exciting when the unknown comes wrapped in the gossamer thread of magic and mayhem. On the other side of this shimmery coin lies Love, the protective cloak that gives all we do meaning and validation. Thus, the world of the supernatural is a prelude and backdrop to romance that unfolds in all its glorious colors.
A woman uses a love potion to attract a man and repel another, yet gets more than she bargained for when the unexpected happens right where she least expects it. A man, both angel and demon, struggles with his identity while danger lurks around the corner and a new, powerful emotion takes over his being, shaking him to the core. An ambitious account executive is thrust in the midst of an old war between vampires and hunters, a kiss has her float in mid-air, and the world she's always known shatters around her.
Trapped in the Company by Olivia Gaines
It all went wrong. Clarice's plan was to use just a bit of the love potion to attract one man, hoping to repel another, but a twist of fate and poor timing left her trapped in the company with Elliott Marsden for the weekend. Keeping her reputation intact was the least of her concerns; she needed to be extra savvy to survive a night with Elliott
Company Secrets by Xyla Turner
Jessica Cayman is an ambitious Account Executive for Delancey, Inc. She stays in her lane, works hard and has her eyes set on becoming a partner within the next year. The plan is easy until Sage Wesley, III from The Company refuses to work with her.
His aversion to Jessica turns into a kiss that literally has both of them off their feet. Floating in midair? Then a bite on her neck?
There are too many secrets and Jessica soon finds herself in the middle of an old war between vampires and hunters…too many company secrets.
Cruz Control: In Bad Company by Tiana Laveen
Born in Hell's Kitchen, New York, Cruz Black spent most of his life attempting to escape the stifling, horrifying bonds of his bloodline. Part Angel Child, part Demon Child, his upbringing was built on the opposite side of 'normal'. But, things change when the notorious King Angel Child of New York, Dr. Saint Aknaten, takes him under his wing. During an investigation into a Los Angeles hate crime case assigned to him by Saint, Cruz finds much more than he bargained for causing the sparks fly in an inferno of attraction when Cruz meets Chef Erika. Like brimstone bricks, the pair fall for each other fast and hard, and the chemistry is unmistakable. Cruz has found his mate, but will Erika stick around once he reveals the true nature of a beast?
Genre: Contemporary Romance