No Comments
The Hothead: Sin City Sentries – Book 3 by Myra Scott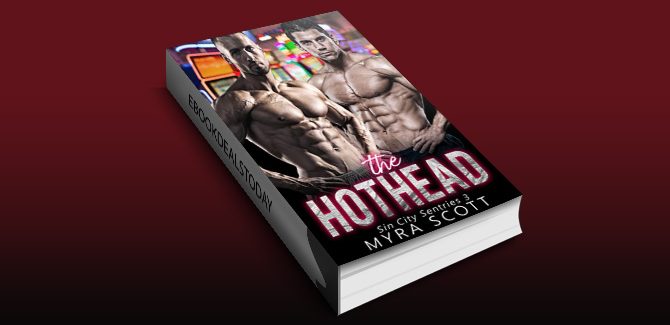 Realtime Price – N/A
Years of friendship. An eternity of secrets. A lust-filled dilemma.
Gage…
The Sentry Casino isn't ready for my firestorm of a heart. My professional life has never been better, but my personal life is a train wreck. I lost the only man I ever wanted and now it's too late.
The only one who understands is Devin. Kind and caring, Devin seems to have life figured out and is always there to listen.
But jealousy is making me a bitter man.
Devin…
I feel like I'm spinning my wheels in mud and getting nowhere. I threw my dreams away a long time ago, and now, I'm a blackjack dealer with nothing to look forward to but my time with Gage.
But my crush on him is getting out of hand. Being friends with benefits is almost more agonizing than not knowing him at all.
He has no idea I've been waiting for him for years.
The Hothead is a friends-to-lovers gay romance with simmering jealousy, sexy confidants, and a love jackpot hidden in the unlikeliest of places. It can be read as a standalone but is more fun when you enjoy the entire series. Gage's story is third in this 4-book series set in Sin City and ends with a HEA and no cliffhanger.
Genre: LGBT, Romance
The Hothead: Sin City Sentries – Book 3 by Myra Scott