No Comments
The Hot Bad Boys Box Set by Lauren Wood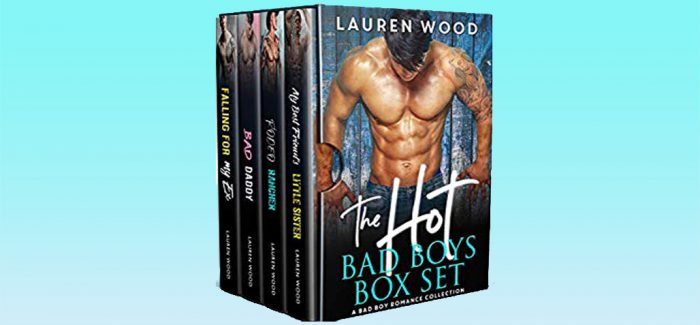 Realtime Price – $0.99
Four standalone full-length novels for readers who love alpha males big and bad! Escape into the world of these hot bad boys and let them entertain you all night long.
My Best Friend's Little Sister
"My brother's best friend was sexy as hell and now I was finally getting noticed."
I was back in town after finishing up my degree and I ran into my brother's best friend Rex.
Rex was the man that I had dreamed about when I was a teen and he had never given me the time of day.
Now he was seeing me and once I had his attention, I wasn't going to let it go.
There had always been something about Rex, but now I knew what it was.
Watching him inaction was all it took to make me realise what it was I really wanted.
I wanted to be the girl that made him beg for more.
I wanted to be his girl.
Rodeo Rancher
"My darkest desire. I wanted my muscled horse Trainer."
Being with him was always a no go. He was a player and I didn't want to get hurt.
But I wanted him. Really bad.
One night with him was all it took. I was hocked and I needed more.
He gave me more pleasure than I ever thought possible.
I wanted him to be mine, all mine, but it was impossible to keep a man like Dante.
He was a womaniser and I was just another pawn for him to play with.
Bad Daddy
"I've rented an entire cruise ship but never knew we will be accompanied by a mermaid…"
Her graceful innocence surprise me.
The way she stared at me with her intensity made me so hard I could barely control myself.
I wanted to feel her skin against mine, her warmth against my heat.
I wanted her to scream my name in her voice that had the ability to turn ash into fire.
I craved to corrupt her, take away the innocence and make this one week unforgettable in her memory.
Falling For My Ex
"Old flames fie hard."
I'm the one that got away.
Now he is determined and not taking no for an answer.
It's hard to ignore him.
I now what he wants.
He is a player, incapable of love.
He's flawed. I still want him again.
I need the only man that can make me scream.
Genre: Contemporary Romance, New Adult
The Hot Bad Boys Box Set: A Bad Boy Romance Collection by Lauren Wood