No Comments
Sea Pilot Dragon's Forbidden Mate by Brittany White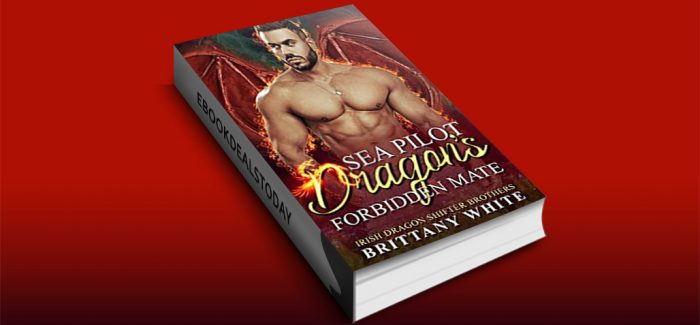 Realtime Price – $2.99
On a cursed island, a dragon shifter's secret is revealed when he saves his mate from an ancient evil.
The City Girl
I grew up in a commune.
It sounds like paradise, but it was hell on earth.
My parents only cared about what made them happy.
They left their children to fend for themselves.
I escaped as soon as I could and never looked back.
New York City offered me a refuge, and I started my own business.
Work is my fuel; it keeps me going, and I refuse to get bogged down with dating.
My career is all I need.
But my coworkers insist on a retreat.
On a sunny beach in South America, we find a sea pilot who will take us out onto the ocean.
My coworkers insist on an adventure to find a hidden island off the coast of Peru.
The sea pilot is gorgeous, and he's more than just his looks.
When the boat crashes into rocks, he saves all of our lives—this sexy man is brave as well as hot.
But he's hiding something—something big.
Can I overlook the secrets he refuses to share with me?
The Sea Pilot Dragon Shifter
I grew up in a happy clan off the coast of Maine.
But I didn't fit in. I wanted more.
I moved to New York City and made my way as an investment banker.
For fifteen years, I succeeded in the rat race, but I grew weary of the fast pace.
As a newly minted millionaire, I found a relaxing life in a little village on a beach in Peru.
I bought a boat, and tourists come to me for adventure.
My life is easy, with no complications.
Until the captivating Daisy shows up. She makes me want all the things I've always avoided.
Against the warning of my extended family of dragon shifters,
I take Daisy and her friends on a hunt for a hidden island.
The warnings are ridiculous—there's no such thing as a cursed island.
Our adventure is all in good fun—until we are stranded with no way to escape.
I was wrong—the curses are real, and Daisy is paying the price.
Now we're stuck, and I'll do anything to protect her from the dark magic that surrounds the land, even revealing the secret of who I really am.
Can a human business owner from New York City forgive the man she loves for hiding a monumental secret from her?
Note: Adult Only!
Genre: Paranormal Romance
Sea Pilot Dragon's Forbidden Mate (Irish Dragon Shifter Brothers, Book 18) by Brittany White