No Comments
Proud by Tatum West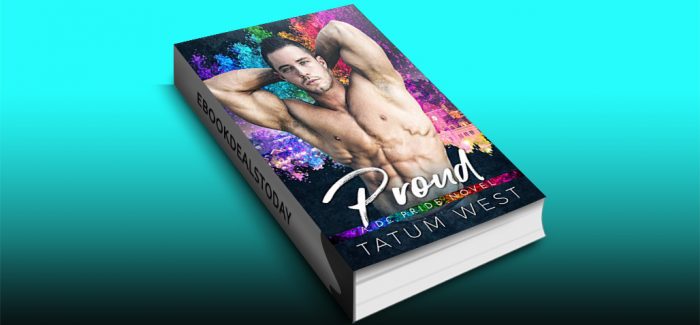 Realtime Price – $4.99
Will
Did you hear the one about the rich parents who sent their kid to conversion therapy? You didn't? Well, that's because it's not funny. And it didn't work.
I'm a trust fund baby. The boy with the summer trips to France, the Mercedes for his sixteenth birthday, and the fancy degree from Georgetown. I have everything. But my family didn't believe me when I came out. I've lived my truth for years, but they just don't get it.
The moment I see Jesse Boatwright, though, I start forming a plan. Jesse needs cash, and I need a date for my sister's debutante ball. But Jesse dislikes everything about me. He says I'm rich and spoiled, and I was born with a silver spoon shoved straight down my throat. That's fine. He's just my date.
But when Jesse kisses me, his lips tell a different tale. I can feel the depth of his need, the desire in his veins. I wish I could block out the world and hold him forever, but he keeps pushing me away. He tells me he's a freak, a screw-up, a liar, that we could never be together. There are secrets Jesse is keeping; I just don't know what they are yet.
When I finally discover the terrors that lie in his past, Jesse is already part of my story. I'm head over heels, falling hard, and ready to show Jesse that he's exactly the man I need.
Jesse
I lied to get a job. Well, it's bigger than that. I lied copiously to get a job, and my boss is the hottest guy I've ever seen.
Will Marshall is everything I never wanted. His blood is Confederate blue, and his parents own the Country Club of Virginia. His money dates back to Queen Victoria, and I'd rather not imagine his family's history when it comes to civil rights.
But Will is kind and strong, and those bedroom eyes make me want to drop out of my office chair. He's beautiful, and not just physically. Every inch of him is good and pure, and I'm filled with lies.
I haven't been with a guy since my ex gave me a black eye, burned all my stuff, and stole my cat. I don't have money to pay rent, and I don't have a degree from anywhere, let alone a doctorate in physical therapy. I'm not half the person Will thinks I am.
But I'm falling in love with him. I can't let him know that. After the deb ball, I need to quit this job and leave town before he finds out what I really am.
When he holds me, though, I feel real again, like a person worth loving. When danger is on the horizon, I just have to decide if Will Marshall is worth the risk.
Proud is a 67k full length mm romance novel, the first in the DC Pride series! It is a super-hot standalone and contains absolutely no cliffhangers. Will and Jesse are total opposites, and their fake relationship causes a whole lot of trouble! Watch out for daring cat rescues, crazy ex-boyfriends, scandalous dancing, and a very special drag queen bestie.
Genre: LGBT, Romance
Proud (DC Pride Book 1) by Tatum West