No Comments
Pescatarian Crockpot Cookbook by Martha D'Angelo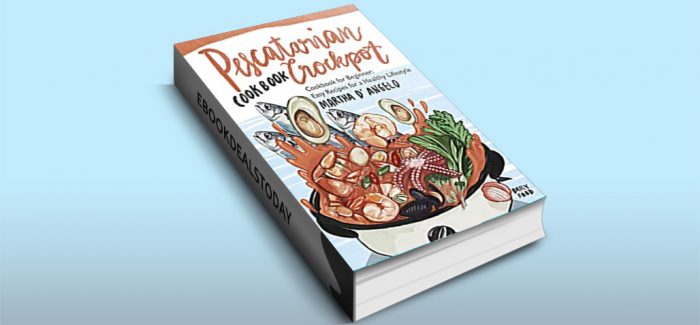 Realtime Price – $0.99
Learn HOW to make easy, delicious and healthy pescatarian meals with your crockpot slow cooker!
Are you looking for a nutritious diet that is high in protein but doesn't consist of meat? Have you recently invested in a crockpot and are looking for tasty and healthy recipes? Do you want to switch to a pescatarian diet?
If your answer is a yes to any of these questions, then this book is for you. Make this your first exciting and exclusive PESCATARIAN CROCKPOT COOKBOOK!
Daily Food's author, Martha D'Angelo will provide you with step by step instructions for the best recipes that will make you crave for more! If you are looking to eat delicious meals that are pescatarian diet-friendly and that you can prepare quickly, look no further. The best part is that you can prepare them all in one crockpot without having to toil for hours in the kitchen.
It can be tough to follow a healthy diet and avoid serious illnesses with most of us' lifestyle. To lose weight or maintain good health, good food is of utmost importance. You might have tried other diets and already realized that it isn't as easy as it appears. The time crunch due to all the other commitments that keep you busy can make it challenging to eat healthy home-cooked meals every day; however, this will no longer be an issue. With this PESCATARIAN CROCKPOT COOKBOOK, you will learn how to cook EASY AND DELICIOUS pescatarian meals.
This PESCATARIAN CROCKPOT COOKBOOK includes:
* An explanation of what the pescatarian diet is
* What foods you can and cannot eat while following the diet
* The benefits of following a pescatarian lifestyle
* Delicious crockpot recipes for breakfast
* Lunch-munch recipies to die for
* Delicious fancy dinner meals
* Desserts that will amaze your taste buds
* And much, much more!
This PESCATARIAN CROCKPOT COOKBOOK is packed with quick and healthy meals that are perfect for vegetarians who eat fish. This cookbook and your crockpot will help you have healthy pescatarian meals on your table in no time! So, what are you waiting for? Click on the buy now button and grab your copy today!

Genre: Non-Fiction, Recipe
Pescatarian Crockpot Cookbook: Cookbook for Beginner – Easy Recipes for a Healthy Lifestyle (daily foodie) by Martha D'Angelo