No Comments
Braving Darkness: The Complete Series (Paranormal Scifi Romance) by Scarlett Grove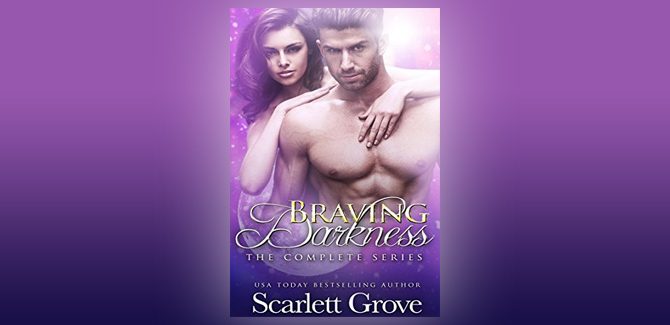 Realtime Pricing: Amzn: $4.99

Braving Darkness follows the fate of humanity in the wake of a global nuclear war. Mutant shapeshifters, psychics, zombies, alien vampires, and archangels are all caught up in the struggle for Earth's survival. The saga unfolds through three gripping narratives:
Marked by the Alpha Wolf — After her dead mother's avatar appears to her in The Program, a virtual-reality simulation that accesses the fourth dimension, Cassandra Kline escapes from the Pyramid Corporation and the domed city where she'd thought herself safe.
Outside the dome, she meets Rafe, the charismatic alpha of a mutant werewolf pack. He takes her in, and although his fellow shapeshifters are less than welcoming, Cassie and Rafe cannot deny the ever-growing attraction between them. Tested time and again by the chaos and intrigue surrounding them, they must decide whether their brave new world has any room for love.
Touched by the Dragon — When Xavier, the leader of a band of dragon shifters, interrogates Circe, a witch he's imprisoned, a casual touch transforms both their lives. Bound together in a way neither expected, they fight to understand the new powers their metamorphosis grants them … and cope with the irresistible desires it brings to the surface.
If they can master their new symbiosis, it could tip the balance of power in their fight against the Anu, the alien vampires whose spaceships patrol the skies above Earth. To succeed, however, they must risk not only their lives … but their hearts.
Desired by the Archangel — Magdalena Dupre is an expert hacker in The Program. When a beautiful man appears to her, she thinks he's a subconscious projection — only to learn that he, and the kiss she shares with him, are both very real.
As a member of the Council of the Seventh House, Michael has been overseeing Earth's welfare for fifty thousand years. It's against the rules for him to intervene directly … but love changes everything. Can he protect Magda and help the remnants of humanity take a final stand against the cruel Anu, or will his rebellion bring him only heartbreak?
Limited time flash sale. The entire Braving Darkness bundle is only 99 cents until Wednesday, April 19th.
The epic series is now available for the first time in a single volume!


Genre: Paranormal Romance, Sci-Fi