No Comments
Blue Moon Saloon: Three-Book Collection, Volume One by Anna Lowe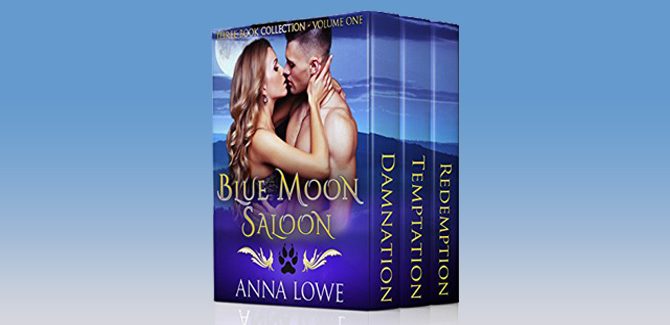 Realtime Price – $9.99
Three gripping paranormal romances in one red-hot volume that will save you $$$! Including the award-winning series starter!
These highly acclaimed, emotional tales feature wounded heroes, powerful alphas, kickass heroines, and the spellbinding scenery of the desert Southwest. Everything you need for an unforgettable bear/wolf shifter romance!
Behind the doors of the Blue Moon Saloon, alpha shifters confront their darkest fears and their deepest desires.
DAMNATION, Book 1, is a passionate second-chance romance that was awarded a RONE for BEST NOVELLA of 2017 and voted BEST SHIFTER BOOK of 2016 by Reality Bites Magazine. In TEMPTATION, Book 2, spunky she-wolf Janna fights to win the cowboy of her dreams. In REDEMPTION, Book 3, bear shifter Soren Voss faces his inner demons and the harsh realities of his new relationship with Sarah, his first and only love. She's a human who doesn't know his deepest secrets — yet!
So settle in, take a deep breath, and step through the swinging doors of the Blue Moon Saloon…
Genre: Paranormal Romance