No Comments
Bear Down: BBW Paranormal Shape Shifter Romance by Terra Wolf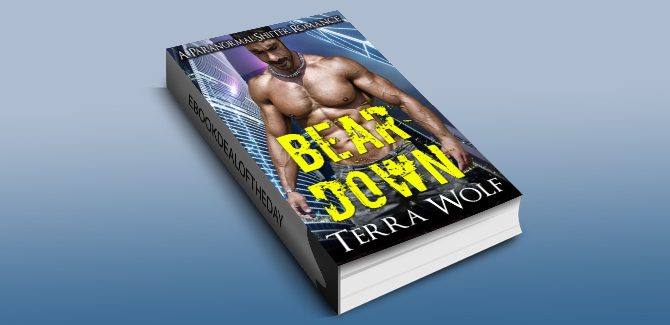 Realtime Pricing: Amzn: $2.99

Philip Macklin has spent the past year watching his two best friends fall in love, all while searching for the one to call his own. Deep in a depression filled with booze and call-girls, he stumbles upon the fiery woman that his bear yearns for in the most unexpected way possible.
Tall, curvy, and broke, Angela Harmony hates what she is about to do for money. After being stuck in a new city on the far side of the country from everything and anyone she knew because of a scumbag ex-boyfriend, she is far from prepared for the reaction her body has upon meeting her client for the evening.
Betrayed and cautious, Angela is not going to succumb to Philip the way he might want. If he really wants her, he's going to have to push aside his bad habits and bear down. When things take an unexpected turn after she goes home from work early to avoid him, Philip is forced to reveal his secret, trusting her to believe in him. In turn, she reveals to the lonely bear just how she really feels about him.
This is a STANDALONE novella with NO cliffhanger. It has a Happily Ever After ending.
Genre: Fantasy, Paranormal Romance