No Comments
Noble Champions by Catherine Kean, Laurel O'Donnell + more!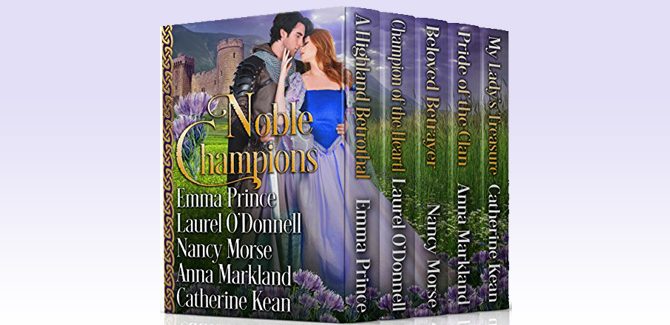 Realtime Price – N/A
This summer, escape into the past and fall in love with these noble champions! This set includes these stories from bestselling authors –
A Highland Betrothal by EMMA PRINCE –
How can he protect the woman he loves when she is engaged to another?
Graeme MacKay returns from the siege on Berwick Castle a changed man. A wound to his leg has left him hobbled, but his injury is nothing compared to the blow his heart receives when he learns that Anna Ross, the only woman he has ever loved, is engaged. When Graeme is ordered to serve as Anna's bodyguard on the journey to wed her fiancé, he is tested like never before. Though he tells himself to feel nothing for her, his heart has other plans.
Champion of the Heart by LAUREL O'DONNELL –
He is an outcast THIEF known as the Black Fox, vowing revenge against those who unjustly stripped his father of his knighthood and lands. She is the PROTECTOR of the orphaned children of her village, promising to bring the Black Fox to justice for his dark deeds. Can Fox uncover the sinister secrets from their past and become the champion of his lady's heart?
Beloved Betrayer by NANCY MORSE –
When Gareth de Trevaine comes to England to claim a stolen heritage, jealous rivals resort to murder to prevent him from taking his rightful place as Lord of Thornby Castle, threatening the love between Gareth and Rowan de Haviland, the strong-willed daughter of a Norman lord. To save Gareth from their evil plot, Rowan is forced to betray him to the enemy. Can Gareth fight his desire for the woman who deceived him? Can Rowan win back the knight she betrayed in the name of love?
Pride of the Clan by ANNA MARKLAND –
Catastrophe changes Margaret Ogilvie's life when her three older brothers drown. She undertakes a perilous journey across the Scottish Highlands seeking the protection of the man she was betrothed to as a child; a nobleman she hasn't seen for eight years. Shocked to discover his role in the assassination of a king has implicated her in his plot to take the throne, she finds herself in dire need of a champion.
Rheade Robertson is duty bound to aid his older brother, the clan chieftain, in his sworn quest to capture the assassins of King James Stewart. Protecting Margaret from persecution will mean defying his brother. Can he bring the murderers to justice and save an innocent woman from the executioner's axe? Or will family rivalry and a vengeful queen destroy his hopes for a future with the courageous lass he loves?
My Lady's Treasure by CATHERINE KEAN —
Lady Faye Rivellaux is desperate to save a kidnapped child. Former crusading knight Brant Meslarches seeks redemption from his past. Forming an uneasy alliance, they search for lost riches and find treasure worth more than gold.
Genre: Historical Romance, Medieval
Noble Champions by Catherine Kean, Laurel O'Donnell, Emma Prince, Nancy Morse, & Anna Markland