No Comments
Nine Rogues, Lords and Lovers by Catherine Kean + more!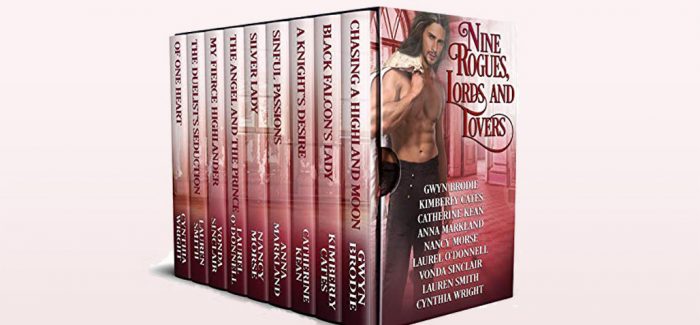 Realtime Price – $2.99
Nine amazing authors come together to give you nine historical rogues, lords and lovers in one boxed set! This collection includes –
Chasing a Highland Moon by GWYN BRODIE –
Escaping an arranged marriage to a man thirty years her senior, Claire ends up at Dunvegan Castle posing as a servant and finds herself in love with its handsome laird. Cin MacLeod knows he can never have the lass as his own—and it's killing him. Will she tell him the truth? Or will he have to find it out for himself?
Black Falcon's Lady by KIMBERLY CATES –
Heir to a dispossessed Irish Catholic family, Tade Kilcannon rides as the Black Falcon, protecting his people and bedeviling the treacherous English—until he meets Maryssa Wylder, an English heiress banished to Ireland by her father. Tade's feelings for Maryssa betray everything he stands for–do they dare defy two worlds for love?
A Knight's Desire by CATHERINE KEAN –
Lady Rosetta Montgomery is abducted on her wedding day, only to discover her abductor is Lord Ashton Blakeley, her first and only true love. As rumors of lost Anglo-Saxon gold and treachery unfold, and Rosetta grows to understand the man Ash has become, will she fight for their love, or will danger cost them all that they treasure?
Sinful Passions by ANNA MARKLAND –
Rodrick must abandon the woman he loves or forfeit his earldom. A poignant love story set against the backdrop of civil strife as King Stephen and Prince Henry Plantagenet fight for the throne of England.
Silver Lady by NANCY MORSE –
Danielle Fleming came to America to claim a priceless legacy, but the silver mine that brought her across the ocean led her to an untamed land where neither her beauty nor her money could buy safety, and into the arms of the half-breed outlaw who put his lusty brand on her soul.
The Angel and the Prince by LAUREL O'DONNELL –
In this exciting medieval romance, the French lady knight known as the Angel of Death wages a battle of wills and desires against her dreaded enemy — the English warrior known as the Prince of Darkness.
My Fierce Highlander by VONDA SINCLAIR –
Gwyneth risks everything to rescue the fierce enemy warrior, Alasdair MacGrath, from the battlefield where her malicious clan has left him for dead, but when the chief learns of her betrayal, dare she trust the enemy more than her own kin? As the danger and conflict surrounding them escalate, Alasdair and Gwyneth discover an explosive passion neither expected.
The Duelist's Seduction by LAUREN SMITH –
Helen must face a man in a duel while disguised as her twin brother in order to save his life…but the man she points her pistol at is the man she has secretly loved from afar.
Of One Heart by CYNTHIA WRIGHT –
When the reckless Marquess of Sandhurst is forced by King Henry VIII into an arranged marriage with a young French widow, he disguises himself as a humble portrait painter, and travels to the French court to have a look at his would-be bride.
Genre: Historical Romance, Medieval, Western Romance
Nine Rogues, Lords and Lovers by Catherine Kean, Laurel O'Donnell, Gwyn Brodie, Kimberly Cates, Anna Markland, Nancy Morse, Vonda Sinclair, Lauren Smith, Cynthia Wright