No Comments
Five Heroes of the Heart by Catherine Kean + more!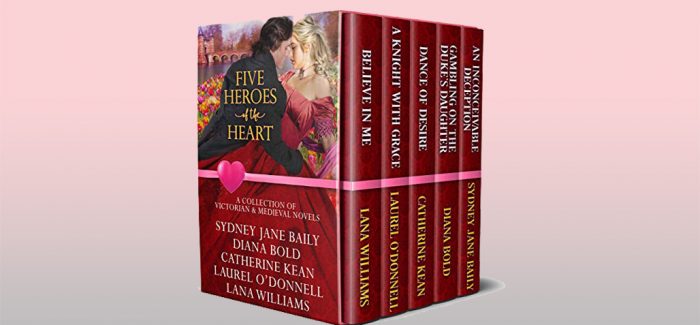 Realtime Price – $0.99
Fall in love again with these full-length novels by award-winning and USA Today Bestselling authors! This set includes –
Believe in Me by LANA WILLIAMS –
Lady Cristiana's plan of revenge against her mother's murderer is cut short when a knight arrives to escort her to her guardian, a powerful bishop. Sir William hopes to earn his second chance at life by serving the bishop, but the beautiful lady refuses to go. As the bishop's intent to use Cristiana's healing ability comes to light, she must choose between revenge and the love of a lifetime.
A Knight With Grace by LAUREL O'DONNELL –
Lady Grace Willoughby defies her father's orders to marry Sir William de Tracy and escapes with a friend. Excommunicated and outcast for a horrible crime in his past, Sir William de Tracy searches for forgiveness. Can William and Grace overcome their past and find the redemption and love both are so desperately seeking?
Dance of Desire by CATHERINE KEAN –
Desperate to save her imprisoned brother, veiled Lady Rexana Villeaux dances for Fane Linford, High Sheriff of Warringham–and he is tempted. Rexana reluctantly marries him, but as she learns more about her husband tormented by secrets, she cannot deny his love.
Gambling on the Duke's Daughter by DIANA BOLD –
When a jaded war hero wagers on his ability to court a duke's daughter, he learns that love is the greatest gamble of all.
An Inconceivable Deception by SYDNEY JANE BAILY –
Hobnob with Victorian-era Bostonians and detour to the bustling wharves where both menace and miracles transpire. Boston society girl Rose Malloy has everything including a loving fiancé. Then her past resurfaces bringing heartbreak, lies, intrigue, and murder. Can she prevent further heartache, or will her future be destroyed by an Inconceivable Deception?
Genre: Historical Romance
Five Heroes of the Heart by Catherine Kean, Laurel O'Donnell, Lana Williams, Diana Bold, Sydney Jane Baily