No Comments
Minimalism for Business Owners by Valerie Johnston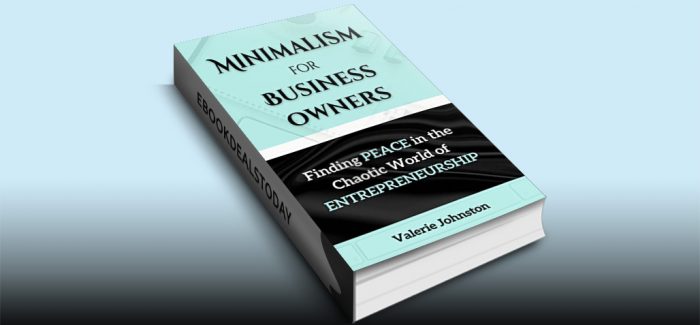 Realtime Price – $4.99
Do you feel like running a business should be simpler than it is?
It can be!
Minimalism is a movement where one lives with fewer resources by choice, to prevent wastefulness and overwhelm. Minimalism for Business Owners applies these concepts to the entrepreneurial lifestyle to bring the ultimate reward of peace and simplicity.
This book will teach you how to minimize in a variety of different areas!
1. Bookkeeping and Accounting, to help you trim expenses and maximize profit
2. The amount of time you spend in your business, promoting work-life balance
3. Admin duties, such as hiring employees, email inbox management, managing your to-do list, setting goals, and self-accountability
4. Prospect attraction, such as website design, branding, blogging, content creation, and social media marketing
5. Client conversion, such as product/service descriptions, pricing information, following-up, and making the sale
6. Delivering products/services, such as simplifying processes and cash flow
BONUSES:
Praying for your Business/Mission Statement
Meal Planning
Wardrobe
Office Area
Home
Records, Receipts, and IRS Links
Between every learning chapter, there is the fictional story of Jennifer and how she uses these concepts in her own business as a private music instructor. These chapters help supplement the book by showing you how they work in a real-life example, but can be minimized or skipped for the entrepreneur who doesn't have the time and/or doesn't enjoy fiction. After all, we should always minimize what doesn't serve us. 🙂
Ready to get down to the essentials?
Genre: Business, Non-Fiction
Minimalism for Business Owners: Finding Peace in the Chaotic World of Entrepreneurship by Valerie Johnston