No Comments
Giveaway: Kindle Fire 7″ and 3 Sets of the Valkyrie Series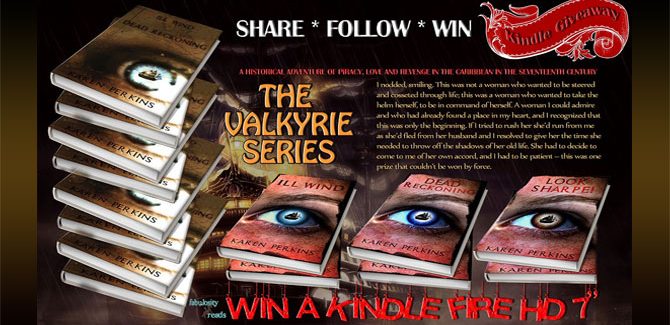 Enter & Win a Kindle Fire 7″ and 3 Sets of the Valkyrie Series brought to us by Karen Perkins!
Historical adventure of piracy, love and revenge in the Caribbean in the seventeenth century

Gabriella Berryngton is an unhappy and oppressed fourteen-year-old girl living in the Massachusetts Bay Colony in 1683. She dreams of escaping her bitter, ambitious stepfather and sailing off into the unknown. Her dreams come true when her stepfather sells her into marriage.
She flees her abusive husband, meeting Leo – a Spanish pirate – aboard one of the most horrific ships in the Caribbean: a slaver. They face a number of challenges as they battle not only the dangers of a life at sea, including storm, drowning, and being cast adrift in a crippled ship, but also repeated attacks by the English cut-throats Blake and Hornigold – and Henry Sharpe. But their biggest threat proves to be each other. Can they reconcile their hearts in time for the fiercest battle in their quest of revenge, and survive the gallows?