No Comments
Free Three Paranormal Kindle books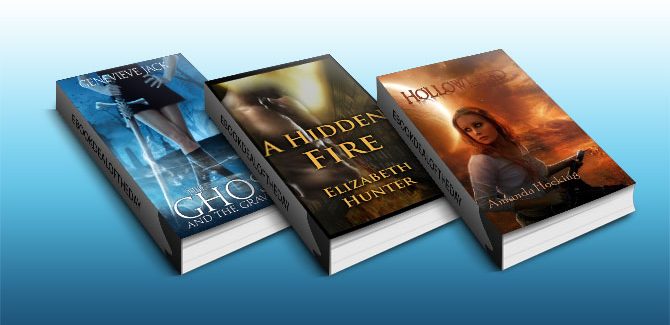 Free! "A Hidden Fire: Elemental Mysteries Book 1" by Elizabeth Hunter
Genre: Paranormal Mystery, Paranormal Romance
"No secret stays hidden forever."
A phone call from an old friend sets Dr. Giovanni Vecchio back on the path of a mystery he'd abandoned years before. He never expected a young librarian could hold the key to the search, nor could he have expected the danger she would attract. Now he and Beatrice De Novo will follow a twisted maze that leads from the archives of a university library, through the fires of Renaissance Florence, and toward a confrontation they never could have predicted.
A Hidden Fire is a paranormal mystery/romance for adult readers. It is the first book in the Elemental Mysteries Series.(less)
"Hollowland (The Hollows, #1)" by Amanda Hocking
Genre: YA, Paranormal, Dystopian
"This is the way the world ends – not with a bang or a whimper, but with zombies breaking down the back door."
Nineteen-year-old Remy King is on a mission to get across the wasteland left of America, and nothing will stand in her way – not violent marauders, a spoiled rock star, or an army of flesh-eating zombies.
"The Ghost and The Graveyard (Knight Games)" by Genevieve Jack
Genre: New Adult, Paranormal Romance
Grateful Knight isn't looking for love when she moves into a rent-free house on the edge of a graveyard. At twenty-two, all she wants is to recover financially so she can move back to the city where she belongs.
But sparks fly when the gorgeous cemetery caretaker, Rick, introduces himself and mentions his suspicion that her new house might be haunted. Her attraction to him seems supernatural, and despite her resolve to not get involved, she literally can't keep her hands off him.
When things in Grateful's house start moving on their own, another man enters her life, Logan, a sexy ghost with a dark secret. He says Rick isn't what he seems, and indulging her passion for him could cost her soul.
One thing's for sure, magical forces are at work in the tiny town of Red Grove, and they're converging on Grateful. Life will never be the same once she's forced to choose between the ghost and the graveyard.