No Comments
Free Three New Adult Romance Kindle Books!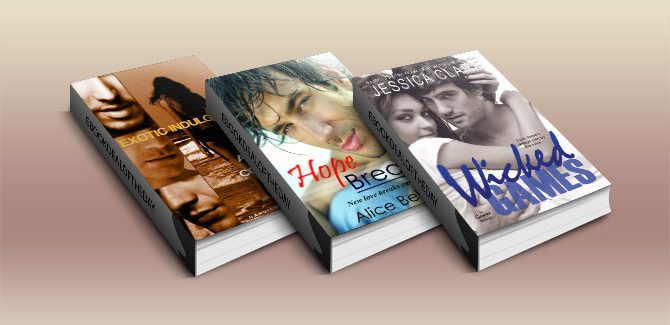 Free! "Exotic Indulgence (Bandicoot Cove)" by Vivian Arend
It's time for an indulgence, or two…or three.
Bandicoot Cove, Book 1
There's something magical about Bandicoot Cove. It's where Kylie Sullivan's dream of managing a luxury, five-star resort is about to come true. And it's where people tend to fall in love. Kylie should know. She's fallen hard—for three very different men.
There's Brad, who knows just how to relieve her stress and send her body on a crash course through pleasure. Hemi, her untamed Maori, who awakens her primitive side. And Finn, the sexy bartender whose specialty is Screaming Orgasms.
The three men fulfill all her sexual fantasies, but Kylie knows reality will eventually set in and she'll have to choose. But how? For now she decides not to decide—at least until she makes sure the resort's soft opening comes off without a hitch.
As far as Brad, Hemi and Finn are concerned, Kylie's life is too much work and not enough play. The only choice they plan to give her is to say yes to their wildly passionate proposal…
Warning: Three sexy men pleasing one uninhibited woman—how much more warning do you need? This short story is long on heat, with a drool-worthy setting and sexual interludes in the office, at the beach and the bar. You want a day job like this.
"Hope Breaks: A New Adult Romantic Comedy (Book 1 of 3)" by Alice Bello
Hope Jones has two problems: one is new, the other is depressingly old.
The new problem: the bestselling author the publisher she shoots romance novel covers for hates her newest batch of covers. She has until the end of the week to come up with a breathtaking shot or she'll be replaced. And there's a sudden model shortage; they're out of season.
The old, depressing problem: she hasn't had a date, sex or a relationship in over two years.
She also has one hell of a headache.
Hope finds the cures for her two problems during a search through Wal-Mart for a painkiller to kill her headache.
Turns out the aisles of the retail giant are rampant with hot young model worthy specimens. And when her trusty Ford Taurus breaks down in the parking lot, a hunky mechanic in the Tire and Lube Express department fixes more than just her car.
Seemingly her troubles are good as gone…but then her new, fabulous cover is rejected, and in a desperate moment she has to choose between keeping her job and keeping the man she's just starting to fall in love with.
"Wicked Games (A Games Novel)" by Jessica Clare
Abby Lewis never pictured herself on the survival game show, Endurance Island. She's just not the 'survival' type. But when her boss offers her a spot on the show and the opportunity of a lifetime, she packs her bags and heads to the tropics to be a contestant.
Once in the game, it's clear that Abby's in over her head. The game itself is full of competitive, aggressive people, and no one's more aggressive than sexy, delicious – and arrogant – Dean Woodall. Sure he's clever, strong, good at challenges, and has a body that makes her mouth water. He also hates Abby just as much as she hates him. That's fine with her; she'll just ignore the jerk.
But the rules of Endurance Island are working against them. Abby and Dean are teamed up – alone – on the beach. It's either work together, or go home. Stuck with no one else's company but their own, they learn they do make a good team after all.
And that with just a little bit of kindling, the flames of hate can quickly turn to flames of passion. This book features enemies, lovers, enemies who become lovers, and lots and lots of tropical heat…