No Comments
Free YA and Historical Nook books this Friday!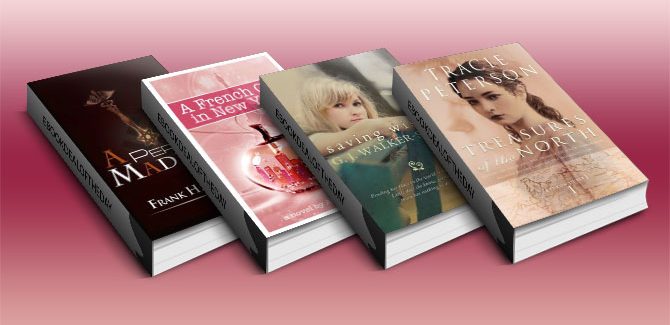 Free! "A Perfect Madness" by Frank H. Marsh
It is the autumn of 1938 when Julia Kaufmann meets Erich Schmidt while studying medicine at the German University in Prague. With Hitler's army soon to invade the city and the terror of World War II looming, it is the worst of times for a Jew and a German to fall in love. As the excitement of the eugenics movement gives way to outright genocide, and the fear sweeping across Europe grows into madness, Julia and Erich find themselves forced to travel two very different paths—ones which will determine the fate of their love and, ultimately, the fate of their souls.
A Perfect Madness takes us on a journey back to a dark time when the fight for survival often eclipsed the fight for the truth. Beautifully and provocatively written, it examines the crippling effects of fear on the human mind, asking painful questions of moral choice we cannot afford to leave unanswered.
Free! "A French Girl in New York (The French Girl Series #1)" by Anna Adams
Maude Laurent is a spirited 16 year-old orphan who grew up in a small, provincial town in the North of France with a passion for piano and a beautiful voice.
Free! "Saving Wishes" by GJ Walker-Smith
For Charli Blake, being seventeen is a tough gig.
She's been branded a troublemaker, her reputation is in tatters and she's stuck in Pipers Cove, a speck of a town on the coast of Tasmania.
Thankfully, it's temporary. Her lifelong dream of travelling the world is just months away from becoming reality. All she has to do is ride out the last few months of high school, which is easier said than done thanks to a trio of mean girls known as The Beautifuls.
When Adam Décarie arrives in town, all the way from New York, life takes an unexpected turn. His arrival sets off a chain of events that alters her life forever, convincing her of one thing. Fate brought him to her.
Saving Wishes is the story of a girl who doesn't quite fit the life she's living, and the boy who helps her realise why.
Free! "Treasures of the North (Yukon Quest Series #1)" by Tracie Peterson
Could They Fulfill Their Dreams in this Untamed Land?
Driven by desperation, Grace Hawkins must forsake the affluent comfort of her upbringing to save herself from an arranged marriage. Disillusioned by her father's insistence, she forges a daring plan to escape the sinister hand of her intended.
Peter Colton sees the Alaskan gold rush as an opportunity to establish his family's fledgling shipping business. An unexpected partnership enables him to pursue those dreams and opens the door to an acquaintance with Grace, who has purchased passage north.
Drawn together by need and circumstance, Grace and Peter form a faltering friendship. But when her deserted fiance continues to manipulate her loved ones, can she find peace in the wake of his wrath?