No Comments
Free Three Kindle Books this Thursday!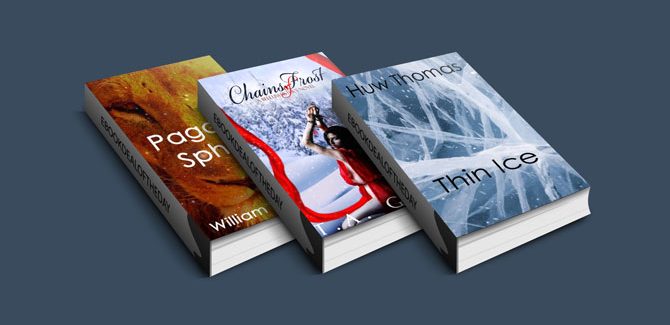 "Pagan's Sphinx" by William Webster
A battered journal left by the lone survivor of a plane crash provides a tantalising clue to an ancient mystery…
After years of leading overland expeditions all over the world, Ben Drummond is trying to settle down in England and forget the woman who broke his heart.
But he is summoned to Oxford by maverick archaeologist Dr Sarah Pagan, who believes she has discovered the whereabouts of a lost statue. Pagan believes the statue – of an ancient sphinx – could be even older than the Pyramids.
Proving its existence would turn conventional history on its head –allowing Pagan to vindicate herself and reclaim her lost reputation.
Pagan wants Ben to lead an expedition that will take her team deep into the desolate landscape of the Western Sahara.
Their first hurdle is to find the unmarked wreck of the crashed plane – but Ben soon realises they are not the only ones on the trail. A gang of art thieves have got wind of Pagan's quest and are trying to follow the team so that they can loot the site for themselves.
"Chains of Frost" by T.A. Grey
Three Fates. Three Sisters.
When a will from her dead father decrees Chloe into the protection of the renowned vampire commander, Tyrian en Kulev, she does what any woman would do–and casts a spell. Things get worse for Chloe when the spell she and her sisters perform summons an ancient demon from deep within the earth. Now she's being hunted by a demon set on killing her and must live at the aptly named Castle Death with the king of cold, Tyrian. Surprisingly, Chloe finds that she doesn't mind her new Protector so much. His cold, impassionate nature needs a firm push to show his true colors, and Chloe thinks she's just the one to do it.
Tyrian en Kulev always pays his debts. When Francis Bellum dies and orders Tyrian to act as his eldest daughter's Protector, Tyrian resigns himself to the position. What should have been a simple deal–keep her in the castle, protect her–has turned difficult. Chloe comes to him with a demon trying to kill her and a sexy attitude that keeps invading his thoughts everywhere he goes. The little succubus easily grabs hold of the heart he'd kept locked away for so long and makes him feel once again. But can they defeat the demon that haunts her and can Tyrian overcome his past and move on to a new future with Chloe?
"Thin Ice" by Huw Thomas
Women are dying… and Danny Harper's life is in pieces.
"When the feeling comes it is like a flood… a faint prickling in his palms and then it is everywhere: swelling up, consuming his thoughts, sweeping through his body. It is fire and ice: a storm of calmness, a torrent of silence. It is the rapture and it has come to sweep him away…"
THIN ICE: Everything is going perfectly for young journalist Danny Harper: a new flat, a career on the up and the girl he loves about to marry him. Then he wakes in hospital to find none of it's true.
Refusing to admit he's imagined it all, Harper tries to regain his lost life. But, while his claims are initially dismissed as delusion, he knows secrets that can't be easily explained.
THIN ICE is the story of what happens when two parallel universes collide – one world where Danny Harper's life is a success, the other where it's a mess.
When Harper is involved in an accident his lives flip: the failure ends up in hospital in a coma, the success wakes in a world where all the important things in his life are missing.
Stuck in the 'wrong' life, Harper starts trying to deal with this new, alternative existence. But in the process he has to deal with something that casts a new perspective on his problem – a deranged killer with a fanatical obsession for the 'sins of woman'.
In Danny Harper's 'real' world, the killer has already been caught. But in this alternative world – partly due to a mistake by the 'other' Harper – the killings have so far gone undetected. And the latest victim is a complete innocent.