No Comments
Free Three Kindle Books this Saturday!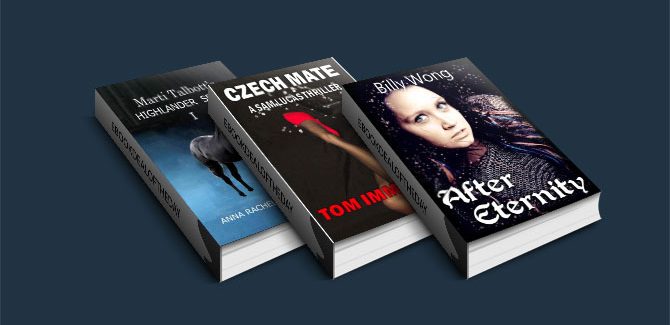 "After Eternity" by Billy Wong
A heroic fantasy tale featuring the indestructible female warrior known as the Iron Flower.
Legendary warrior Rose thought she could get at least some rest playing bodyguard for her merchant friend Alex. But when they inadvertently revive an ancient hero and learn of an apocalyptic prophecy, Rose must travel to a haunted kingdom to battle a nation-killing demon and stop the event known as the Disaster.
A novelette.
"Highlander Series I" by Marti Talbot
ANNA — In love with a woman he had only seen once and could not find, the Highlander, Kevin MacGreagor was growing older and needed a wife to give him sons. No other woman pleased him, even the daughters of other lairds, so he finally settled for Anna sight unseen. But when his men went to meet her guard, she was all alone and badly beaten. Who could have done such a thing and why?
RACHEL — had a dark secret and even she didn't know what it was. She was seventeen, determined to become as good a warrior as any Highlander and was firmly against taking a husband. Connor had other ideas. He loved Rachel and when a rival clan took her, he thought he would lose his mind. How would he ever get her back and if he did, would her dark secret separate them forever?
CHARLET — The King of England asked the Highlander, Kevin MacGreagor, to hide a baby girl and save her life. But sixteen years later, someone discovered where she was. To Blair Cameron fell the duty of hiding and protecting Charlet. It was not an easy task. She was furious, head-strong and determined to run from him. Could Blair keep her alive? And if he did, could he keep himself from falling in love with her?
NOTE: All of Marti Talbott's Books are clean romance.
"Czech Mate" by Tom Immins
The quiet village of Glidon awoke one morning to the shock of a double murder. Two seemingly unrelated deaths. The only witness was a Czech au-pair, who was convinced that she was the intended target. She befriends Sam Lucas who agrees to help her. Before Sam can do any real good, the girl disappears. This takes him on a journey to Prague and France to find the girl and uncover the identity of the murderer.
Sam finds a friend in the guise of DCI Terry Long, a Detective with more than a few skeletons of his own.
Meanwhile, the village is not all it seems to be, a long running feud between two families is brought to an head after a gruesome discovery and a piece of scrub land becomes an important factor in settling a long running dispute.
In this new fast paced thriller, Sam is faced with difficult decisions once more, which not only threaten the life of the girl but also his own, especially when the reason is not business but personal.