One Comment
Free Three Horror Fiction Nook books!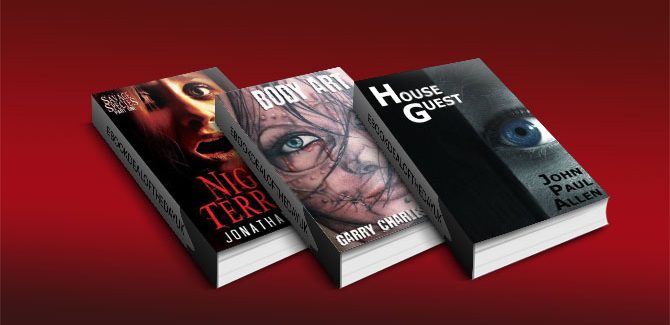 Free! "Night Terrors" by Jonathan Janz
Genre: Horror Fiction
Jesse thinks he's caught a break when he, the girl of his dreams, and her friend are assigned by their newspaper to cover the opening weekend of the Peaceful Valley Nature Preserve, a sprawling, isolated state park. But the construction of the park has stirred an evil that has lain dormant for nearly a century, and the three young people—as well as every man, woman, and child unlucky enough to be attending the grand opening—are about to encounter the most horrific creatures to ever walk the earth. A species so ferocious that Peaceful Valley is about to be plunged into a nightmare of bloodshed and damnation.

"Body Art" by Garry Charles
Genre: Horror Fiction
Jeff has a secret he keeps from everyone, especially his wife.
Jeff likes to spend time… special time… with women he meets on the streets.
But Jeff's secrets have a way of bleeding into his personal life and his sanity begins to peel as the truth insists on being confronted.

"Houseguest" by John Paul Allen
Genre: Horror Fiction
Chastity Bream doesn't dance anymore. She also can't walk, speak or think. She's fed through a tube, turned twice a day and left alone in her bed. That is except for him – the one in her closet, who comes out to tend to her needs. And his.