No Comments
$2.99 "The Jonas Trust Deception" by AFN Clarke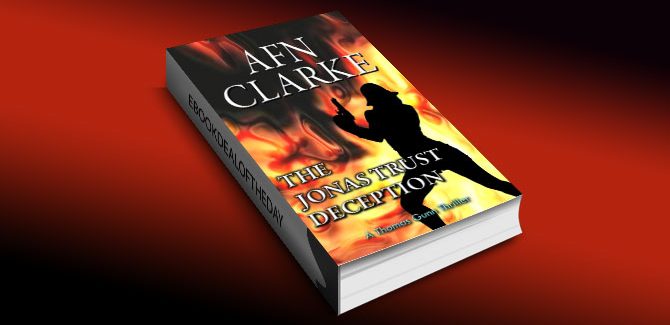 Ebook Deal of the Day:
$2.99 "The Jonas Trust Deception" by AFN Clarke
Genre: Thriller & Suspense, Spy Mystery & Intrigue
Thomas (ex-Special Forces) goes on high alert after a desperate message from his journalist friend, Morgan. She's in danger. But where? And why? Rushing to her ranch he finds it being torn apart by a highly-trained female assassin of East European descent, with a mysterious butterfly tattoo on her neck. An image that sends his mind reeling. Dread seeping into his soul.
In her ongoing investigations, Morgan may have uncovered something even more explosive and far-reaching than the Orange Moon conspiracy. If so, her enemies will want both her and her information destroyed. Racing to follow tangled leads, Thomas and his girlfriend Julie are thrust into the deadly path of Mexican drug cartels, corrupt politicians, unscrupulous financial brokers like Jonas T Purdue, the FBI, the UK intelligence services and their arch nemesis Marika Keskküla. What deception binds these unlikely "players" together? What's their power struggle really about? And even more personally disturbing, why the constant links back to a secret mission in Afghanistan, that Thomas has tried so hard to forget?