One Comment
Free Three Historical Romance Nook Books!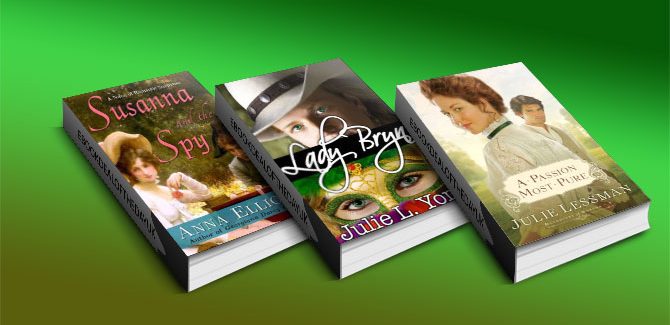 Free! "A Passion Most Pure (Daughters of Boston Series #1)" by Julie Lessman
Genre: Historical Romance
She's found the love of her life.
Unfortunately, he loves her sister.
As World War I rages across the Atlantic in 1916, a smaller war is brewing in Boston. Faith O'Connor finds herself drawn to an Irish rogue who is anything but right for her. Collin McGuire is brash, cocky, and from the wrong side of the tracks, not to mention forbidden by her father. And then there's the small matter that he is secretly courting her younger sister. But when Collin's affections shift, it threatens to tear her proper Boston family apart.
Book 1 of the Daughters of Boston series, A Passion Most Pure will carry your heart from the sophisticated streets of Boston to the green hills of Ireland as men go off to war and women long for their return. Full of passion, romance, rivalry, and betrayal, it will captivate you from the first page.

Free "Susanna and the Spy" by Anna Elliott
Genre: Historical Romance
A chance encounter with a figure from her past suggests that Susanna Ward's estranged grandfather was murdered, and that his death was connected to a ring of smugglers led by a mysterious Captain Clark. When Captain Clark himself appears at her door, wounded and in need of her help, Susanna must decide where her true loyalties lie.
Free "Lady Bryn" by Julie L. York
Genre: Historical Romance, Victorian Romance
Sometimes what you see is not what you get, and people aren't really who you thought they were. Bryn is from the American West where hard living makes women more equal to men than is comfortable for her aristocratic husband. With a decade long arranged marriage to a hard-working second son turned heir and their two sons – she still hasn't learned everything even if she gave up hope long ago.
Victorian Romance