No Comments
Free Three Children's Fiction Ebooks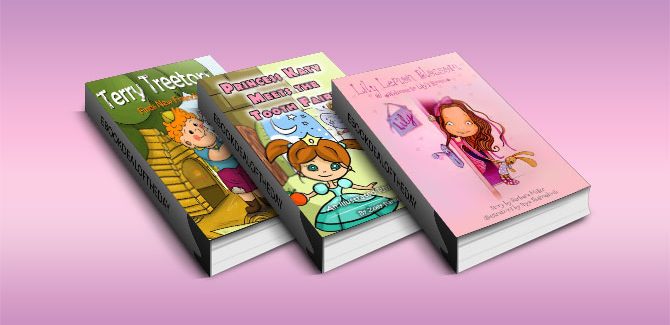 "Terry Treetop Finds New Friends" by Tali Carmi
Let your kids go on an adventure !!
This is a wonderful children book , about a boy with red hair and freckles, named Terry, but….
everybody called him Terry Treetop because he loved climbing trees.
Terry was alone, so he went on a journey to find new friends to invite to his new tree house.
He almost gave-up when a new opportunity has aroused.
Will Terry use this opportunity to find new friends ?
This short story will motivate and inspire your kids to be active about the things they want to achieve in life
and not to give-up on their quest for love and happiness.
Your kids will enjoy full colorful illustrations of Terry and the animals he met
(bee, cow, sheep, chicken) and a very cute kitten.
Your kids will be inspired:
How to be self motivated
How persist and not give up
How to give and get love
The story is written for children ages 3 – 5.
"Princess Katy Meets the Tooth Fairy (Princess Katy Illustrated Rhymes)" by Zoey Parker
Princess Katy Meets the Tooth Fairy is the 3rd Illustrated Rhyming story featuring our sweet Princess Katy (and her sweet tooth).
Introduce your child to the concepts of the tooth fairy and new teeth with this adorable rhyming story which contains illustrations on each page.
Zoey Parker enjoys sharing stories and enabling your family to make their own memories with these rhyming bedtime stories.
"Lily Lemon Blossom Welcome to Lily's Room" by Barbara Miller
Meet Lily Lemon Blossom, a delightful little girl who loves adventures and playing with her friends. Lily invites you to see her lovely room and meet her many friends, including Bunny Rabbit and Josephine her kitten who is always by her side. A quick peek into Lily's room will tell you quite a lot about her. The room comes alive with its vibrant colors and huggable plush toys. It's a happy place for a happy little girl and her friends.