No Comments
Filthy Dating Rules by Lauren Wood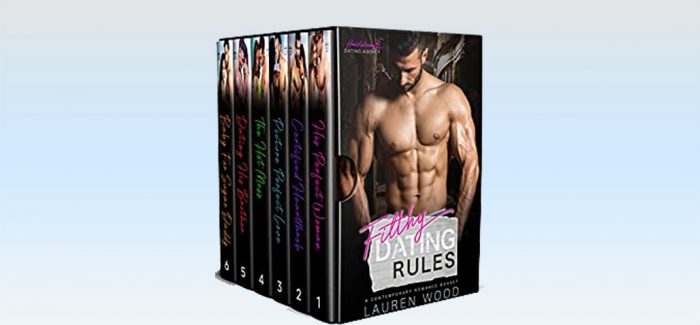 Realtime Price – $0.99
Six Full-Length steamy contemporary filthy daddies romance collection….trust me, you won't want to miss it.
Book 1 – His Perfect Woman (A Friends to Lovers Romance)
"I should be an expert at keeping my feelings for Victoria to myself.

I've been doing it for years.

But who would have guessed that making a baby with my best friend,

Would make it so much harder to keep my love a secret?"

Book 2 – Certified Heartthrob (An Enemies to Lovers Romance)
"I'm determined to stop the internet troll attacking my family's company…

That is until that troll turns out to be a certified heartthrob.

Why did no one ever warn me that an internet nerd could look so good?
Am I enough to put an end to his vendetta against love,

Or will he just drag me down with him?"

Book 3 – Picture Perfect Love (Office Romance)
"Heartstring dating app exec Joshua Meadows is incredibly handsome, no doubt.

Also a wild card playboy party animal…

and for some reason, determined to win me over.
When that one night spirals into a whirlwind romance I never saw coming,
Will I be able to keep my head on straight and my heart out of his reach?"
Book 4 – The Hot Mess (Brother's Best Friend Romance)
"Jack Landson is off-limits. He's my brother's best friend and completely unobtainable.

I can fantasize about him all I want, but he barely notices me at all.
I was determined to change my life, inside and out.

But I accidentally caught the attention of Jack in a way.
By changing myself and luring Jack in, will I end up changing him from the inside out too?

Or will I be sent crawling back into my safe shell, lost in my world of books?"
Book 5 – Dating His Brother (Forbidden Affair Romance)
"My life is lacking a certain something…

Exactly what I'm missing isn't as clear as my certainty that it is not a man.

At least I was certain until I met Dawson Hayes.
Dawson is determined to prove he is exactly what is missing from my life.
Will I be able to keep my guard up long enough to prove him wrong?

Or am I the one who is actually about to be proven wrong?"
Book 6 – Baby for Sugar Daddy (A Secret Baby Romance)
"I was fifteen when I first laid eyes on him.

Jordan Ashford. My Dad's business partner…

And the meat of all my biggest sexual fantasies.
I'm a grown woman now, and I can't throw it all away…

Not over some cocky sugar daddy in a suit.

But the consequences…they sting like hell,

And come in the form of two pink lines on a little stick.
We're risking our careers and all ties to my father…

But when it feels this good, is it wrong to say it's worth it?"
Each book in this collection will leave you satisfied with a steamy happily ever after sure to keep you reading long into the night.
Genre: Contemporary Romance
Filthy Dating Rules : A Contemporary Romance Series Boxset by Lauren Wood