No Comments
The Girl With Nine Lives (The Adventures of Benedict and Blackwell Book 1) by E Earle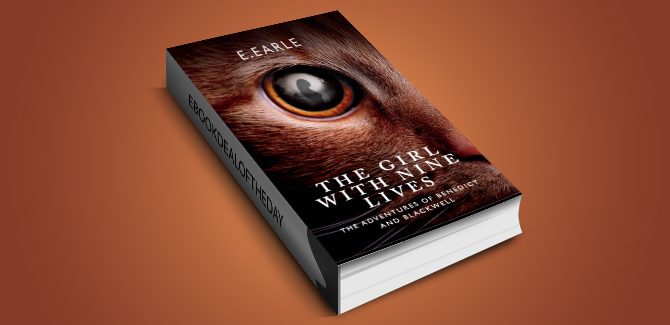 Realtime Pricing:FREE

If you are a fan of cozy mysteries and have a soft spot for talking cats, you will love E. Earle's The Girl With Nine Lives.
Fondness of rum? Check. Job heading nowhere? Check. Mastermind criminal boss discovering you have unravelled their plot? Check. Talking cat with an addiction to catnip deciding to take control of the situation? Check. Welcome to the lives and adventures of the ginger moggy Ben and his human, Ellie.
Ellena Blackwell is your average woman- desperate to make the best of her Degree and failing miserably. Falling into such a hole of self-pity, even her cat, Ben, is sick of her and tells her to snap out of it.
And that's when Ellena realises she has a talking cat, and he's not going to go away anytime soon.
Having a devious crime boss as Principal to the college she works at, Ellena discovers a dangerous secret that the Head Office would very much rather that she didn't know. Deciding to take control of her life, Ellena enlists the help of Ben to investigate as soon as her friend goes missing.
But Detective Calloway is determined to get involved, and Ellena soon learns that Ben isn't the only one who thinks he has nine lives.
Genre: Cozy Mystery, Fantasy