No Comments
Dream Mate by Sharon Spell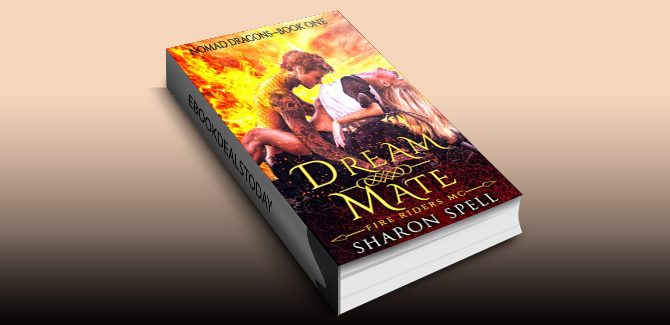 Realtime Price – $0.99
Hannah has been having visions all her life. They come in her dreams and while some of them are disturbing, others are wonderful and bright. Lately her visions seem to feature a dark and mysterious man. He's got the body of a Greek god, ancient-looking tattoos covering his skin, and…the wings of a dragon?
But there's also another man who lives in her dreams. This one seems to radiate hatred, evil…and death. And he's close. Too close.
When Lex and his crew roll into the small town of Rockfoot, Wyoming, all they're looking for is a decent burger and a pitcher of beer. It's not easy to stay under the radar of their rival MC of elder dragons or constantly be on the run. The last thing Lex wants is to be steered off course by the simple matters of humans.
All it takes is a single touch and Hannah knows there's something special about the stranger sitting at the table in front of her. She's instantly attracted, and something about him reminds her of the mysterious man from her dreams. Could this be him? Is he there to protect her or is he a threat?
Genre: Paranormal Romance
Dream Mate: Fire Riders MC (Nomad Dragons Book 1) by Sharon Spell