No Comments
Cinderella of 6th Ave: & Captain Charming (Tales of 1001 Flights) by Alice May Ball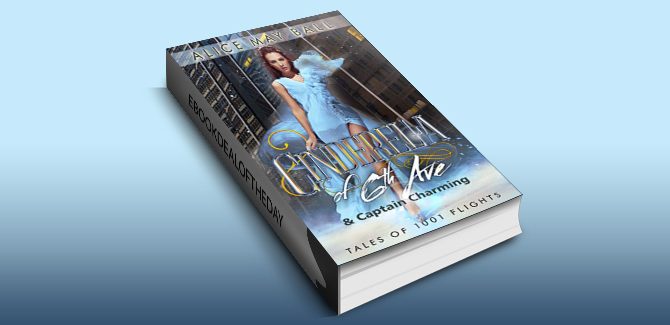 Realtime Pricing:N/A

Jagger McCann
As a pilot and a lover, I'm the best there is. I'm choosy and I'm hard to please. You'll only get one night, but it will be the night of your life.
My life is perfect. Or it was, until I met her. Alexa. We were supposed to have one night. No strings, no regrets. But now I'm hooked and I can't shake free, but I can almost never see her and when I do she runs away before midnight. It seems like all I can do to win her is to call her late at night and tell her bedtime stories.
Well, if that's what it takes, that's what I'll do because nothing else matters. I have to have her. I have to.
Alexa
So, after the most horrendous break-up, I'm living my wealthy, glamorous step-sister's life while she jets off halfway around the world with her too-perfect beau. Super high thread-count luxury silk sheets? Check. Big, soft, sumptuous bed? Check. Gorgeous bathroom with oils and beauty products for endless, shameless pampering? And a Manhattan view to die for? Check, Check, Check.
All that's missing is the tiny detail, well, preferably massive detail, of a man.
Ah, well. BFF says, "Party," and 'BING' we're off to a glamorous opening. And who should I meet but the hottest hard-bodied hunk of growl-inducing, pant-wettingly delicious man. Oh, boy. Off to his hotel suite for the night of… well, you get the picture, right? Mmm, and believe me, it's a BIG picture. You know what I mean?
He's the 'one-night only' type of a guy, and that suits me just fine.
Only it doesn't. He wants more and, after what I had, oh, boy, so do I. But I'm not ready for another relationship and, besides, I can't let him find out that I'm not the glamor girl he thinks I am.
Oh, but the stories he tells me on the phone… How long can I resist him?
Come join Alice May Ball in this delightful standalone tale. Guaranteed to leave your breath a-quiver. No cheating or cliffhangers. This Special First Edition includes an Exclusive Bonus Story. (That one is also HOTTTT!)
Genre: Contemporary Romance, Fantasy, Romantic Comedy