No Comments
The Affair with Mr. X: Part I: A Contemporary, Interracial Romance by Yuwanda Black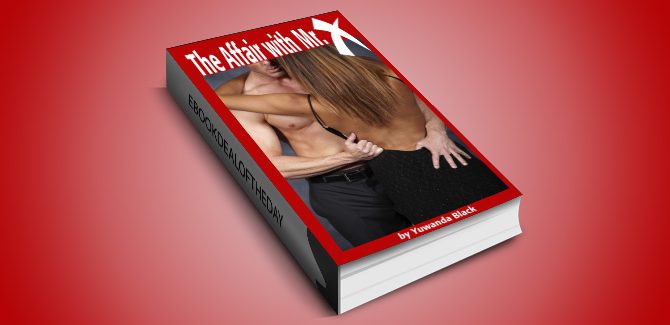 Realtime Pricing:$2.99

Xavier sucked thoroughly and greedily, his fingers making their way to the ultimate destination – the paradise between her silky-smooth thighs. The moment he entered her heated center, her hips began the dance that man and woman had been doing since time began. She opened fully to him – blissful murmurings becoming urgent demands for him to take her; to release her from the prison of pleasure he'd entombed her in. He reveled in the mastery his hands had over her heated body, resisting the urge to take her, even though she was begging. He stroked her deeper, moving his fingers in and out of her lava-like womanhood, stroking her bud of life to within inches of sated orgasm.
Tears of pure ecstasy streamed back into her hairline as her hips rode the chasms of pleasure that rocked her body.
Xavier rolled off of her, pulling her to him and kissing the nape of her neck as he did so. "I tried to keep my distance from you. But I knew that it was a losing battle and that eventually, we were going to end up here."
"I know. Me too," she said simply.
###
Xavier banged his fist on the steering wheel. She was married. He knew this going in.
But the chemistry they shared; the way she gave herself so freely to him. Their involvement – their affair – had implications far beyond just the two of them.
How would his brother found out? Would it cause a rift between them? Would it cause a rift between Gideon and Tara, his fiance? After all, he and Gideon were brothers, and Lenae was Tara's best friend. Would Tara blame him for taking advantage of her best friend?
In spite of all of this, one thing became very clear to him — he didn't regret making love to Lenae. If the truth be told, he didn't know how he was going to stop making love to her. He wanted her now more than ever … even if she was still married.
Word Count: 23,741
Note: The main characters in this novel were first featured in the best-selling, erotic romance series, "A Taste of Tara," which can be found at http://amzn.to/1HT7jg5.
Genre: Contemporary Romance, Interracial Romance