No Comments
Christmas Knights by Catherine Kean + more!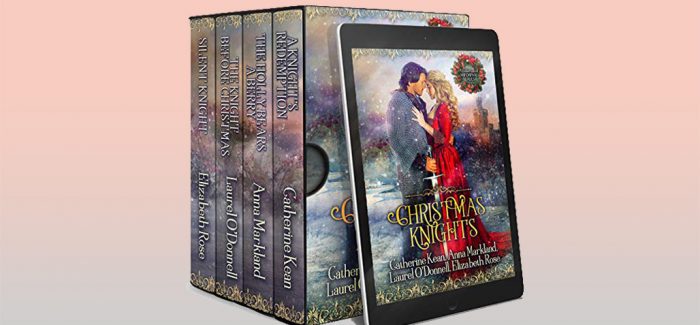 Realtime Price – $0.99
This spectacular Christmas collection features brand new, never before published historical tales from some of your favorite authors! This set includes –
A Knight's Redemption by CATHERINE KEAN –
Revisit beloved characters of Catherine's Knight's Series! Six Christmases ago, after refusing his kiss, Lady Mary Westbrook was locked in the dungeon by Lord Holden Kendall, a squire at Branton Keep. When an attempted child abduction days before Christmas brings Holden back to the castle, Mary must confront again what happened between them. Holden is a grown warrior now, and he resolves to not only make matters right with Mary, but finally win her kiss. Yet, as peril ensues, Mary must risk far more than a chance at true love.
The Holly Bears A Berry by ANNA MARKLAND –
Barr de Montbryce finds himself caught up in a race against time to prevent the assassination of a prominent archbishop.
Hollis de Moreville becomes an unwitting victim of her brother Hugh's murderous intent.
Thrown together by tragic circumstances in the yuletide season of goodwill, will Barr and Hollis rediscover the power of love?
The Knight Before Christmas by LAUREL O'DONNELL –
Blamed by her father for her twin sister's death on Christmas Eve, Lady Eve Chandos agrees to marry a man she does not love to please him and appease his years of wrath.
Betrayed by his brother at an early age, Sir Gabriel Bedford decides it is time to make amends and attends his brother's marriage, but he is unprepared for the beauty Lady Eve has grown into and the attraction that quickly sparks between them.
As Christmas approaches, can Eve and Gabriel find the happiness they seek, or will the secrets of their past doom them to remain apart forever?
Silent Knight by ELIZABETH ROSE –
Alexander Masterson has lived his life as a mercenary, struggling with the fact he was born lame. On his father's deathbed, Alex is told that he is really Peter Mowbray, the son of Lady Summer (from the book, Summer's Reign) who was thought to have been a stillborn. His life turns upside-down when he travels to Framingham Castle to learn the truth and meets Lady Charlotte Ashworth. Charlotte is a beautiful noblewoman looking for a husband, but Alex is no knight. Will his disability and his tarnished past push away all hope for happiness or will the secret of his true identity earn him the chance to find true love after all?
Genre: Historical Romance
Christmas Knights by Laurel O'Donnell, Catherine Kean, Anna Markland & Elizabeth Rose