No Comments
Sassy Ever After: Bonnie Sass (Kindle Worlds Novella) by Erika Masten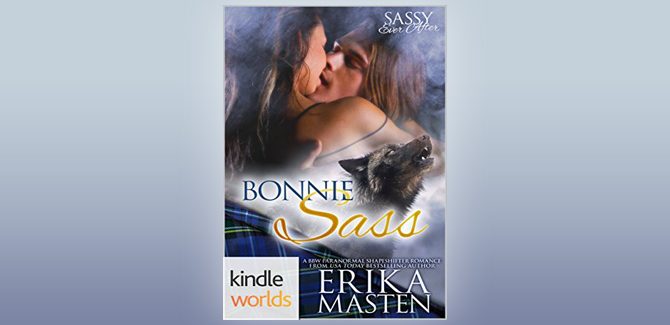 Realtime Pricing: Amzn: $1.99

Even the sexiest Highland wolf lord with the deepest, darkest brogue is no match for curves and sass in the high-stakes game of love.
Angie Maddox might make her living as a VIP host seeing to the whims of high rollers at the Shifter Access Unlimited Hotel in Vegas, but her private life is about no one's needs but her own. She has taken her share of hard knocks learning that people pass in and out of Las Vegas—and her life—all too easily to let herself get attached. No man or shifter has enough money or magnetism to make her swoon ever again.
Lord Calum Ferguson is no playboy gambler, though, and no stranger to the voluptuous Miss Maddox or the passionate spirit walled up behind her defenses. He's determined to be more than a one-off London fling from her carefree college days. When an international summit of wolf packs brings the Scottish alpha to Las Vegas and within range of his curvy prey, he knows he has waited long enough for Angie to come back to him; it's time for the Highland wolf to go hunting.
But his lordship is going to have to put all his wolfish wiles and Highland charm to work if he's going to get his "sassy ever after" with his bonnie American lass. Between royal pack politics, a kidnapping gone wrong, and the clandestine alliance of a rogue wolf with a seductively dangerous vampire, Calum might lose his chance—and Angie's life in the process.
Genre: Paranormal Romance