No Comments
Alpha's Blood by Renee Rose & Lee Savino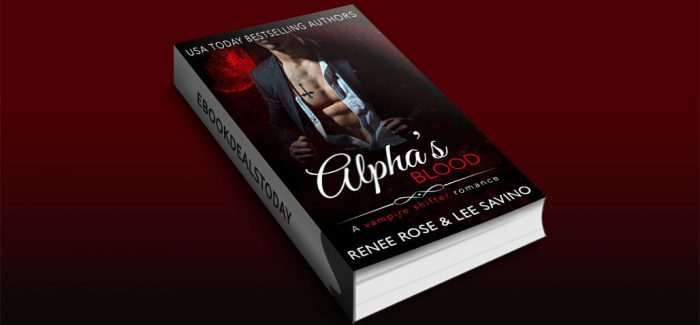 Realtime Price – $0.99
I BOUGHT HER. I OWN HER. BUT SHE'LL NEVER BE MINE…
A Vampire King…
The moment she stepped on stage, I had to have her in my bed. My submissive, kneeling at my feet.
But this captive virgin is more than what she seems…
A spy in my kingdom. A weapon honed by my enemy. She hates me, but hate is a passion perilously close to love…
A captured queen…
All my life I've trained for one purpose. One ultimate goal: kill the Vampire King.
I expected a fight. Pain. Torture. I didn't expect to want him. My body is a weapon he turns against me.
But I can't forget my fallen pack. My quest for revenge. My mission is simple:
Seduce him. Earn his trust. Bring him down.
Above all: don't fall in love.
This stand-alone romance is the twelfth in the bestselling Bad Boy Alpha series. HEA guaranteed, no cheating. This enemies-to-lovers story contains a cool, collected vampire and the she-wolf sent to bring him down. If such material offends you, do not buy this book.
Genre: Paranormal Romance
Alpha's Blood: A Vampire Shifter Romance by Renee Rose & Lee Savino